KEEPING FARM VISITORS SAFE AND HEALTHY
Agritourism involves activities that bring visitors to the farm. It is growing in popularity across the nation.
It can be a great way for farmers to add supplemental income but it does come with an additional set of responsibilities. The growth of agritourism is connecting more and more people directly with agriculture and allowing them to better understand where their food comes from. With that comes the opportunity for them to learn about the health and safety issues related to agriculture, including protecting themselves.
Protecting the safety of farm visitors is important for both the visitors and for farms hosting these events.
OTHER RESOURCES
COVID-19 AND AGRITOURISM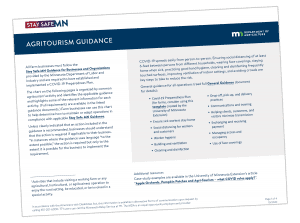 Agritourism Guidance Document
All farm businesses must follow the
Stay Safe MN Guidance for Businesses and Organizations
provided by the Minnesota Department of Labor and
Industry and are required to have established and
implemented a COVID-19 Preparedness Plan.
---
Can COVID-19 infect my herd, flock, or pets?
According to the CDC, humans seem more likely to give COVID-19 to animals than vice versa. A limited number of animals in the United States have been infected with COVID-19.
https://www.aphis.usda.gov/animal_health/one_health/downloads/sars-cov2-in-animals.pdf
If you are sick, restrict contact with pets just as you would around other people. It is suggested that people with COVID-19 limit contact around all animals until more information is known about the virus and the susceptibility of various animals to the virus.
At this time, it appears that livestock or poultry are unlikely to get SARS-CoV-2 infection nor transmit the virus to humans.
COVID-19 in animals that have been confirmed by USDA's National Veterinary Services Laboratories.
---
SAFE AGRITOURISM CAMPAIGN AND SOCIAL MEDIA TOOLKIT
Spring into Safe Agritourism
2019 Agritourism Campaign
#SafeAgritourism #SaferFACEs
The "Spring into Safe Agritourism" 2019 campaign may have ended, but you can share and promote safe agritourism ANY time of the year!
---
Click through the tabs below to view our printable and digital resources and training materials for agritourism

A HUGE ASSET. Great information, well worth the time.

[Handwashing posters] They look good are simple and easy and quick to read. I like them.

The training is great. What I really like about this training is that it is something I can have all my volunteers do.

I really enjoyed the course. It was easy, visual, and didn't take much time to complete. I felt like what I learned was valuable. I liked how key points were addressed multiple times to reinforce that knowledge such as calves being a high-risk animal for young children, etc.

The topics were informative and I feel we will be better prepared for our county fair.
---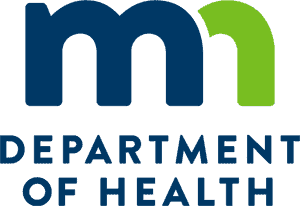 MINNESOTA DEPARTMENT OF HEALTH CONTACT INFORMATION:
If you have specific questions about hosting an agritourism event on your farm, contact:
Carrie Klumb, Minnesota Department of Health
carrie.klumb@state.mn.us
651-201-5414 or 1-877-676-5414
RELATED NEWS
---