UPDATED DECEMBER 21, 2020
"Can COVID-19 affect my livestock?" "I live and work on a farm. Why do I need to practice social distancing?"
1. What is COVID-19
Coronavirus disease (COVID-19) is an infectious disease caused by a newly discovered coronavirus (SARS-CoV-2). It is considered a novel virus because it has not previously been identified.
2. What are coronaviruses?
Coronaviruses are named for the crown-like spikes on their surface. They are a large class of different viruses that are commonly found in a variety of animals, birds, and people. Coronaviruses can pose a threat to livestock, companion animals, and humans. Most coronaviruses are only transmitted among animal species and do not cause illness in humans. However, there are three serious coronaviruses that cause infection in humans – MERS-CoV (coronavirus that causes Middle East Respiratory Syndrome), SARS-CoV (coronavirus that causes Severe Acute Respiratory Syndrome), and now SARS-CoV-2.
3. What is the source of COVID-19?
Officials are still working to find the source of the COVID-19. It is believed to originate from animals at a seafood and animal market in Wuhan China. Scientists who studied the virus agree that it evolved naturally and crossed into humans from animal species, most likely a bat. However, current transmission of COVID-19 is maintained through person-to-person spread.
4. Is COVID-19 the same as SARS and MERS-CoV?
No. COVID-19 is not the same as the coronavirus that causes Middle East Respiratory Syndrome or the coronavirus that causes Severe Acute Respiratory Syndrome.
5. How does the COVID-19 spread?
The virus spreads from person-to-person via respiratory droplets or small particles, such as those in aerosols, produced when an infected person coughs, sneezes, sings, talks, or breathes similarly to how influenza and other respiratory illnesses spread. Due to various factors, such as air flow, the size of a space, lack of ventilation, humidity, temperature, etc. COVID-19 can spread larger or shorter distances. However, people are more likely to spread COVID-19 when within 6 feet or 2 arm lengths of each other for 15 minutes or more over a 24-hour period. There is growing evidence that droplets and airborne particles can remain suspended in the air and be breathed in by others.
6. What are the signs and symptoms of COVID-19?
Current symptoms reported in patients with COVID-19 include mild to severe respiratory illness with fever, cough, shortness of breath (difficulty breathing), chills, headache, muscle pain, sore throat, fatigue, congestion, loss of taste or smell, nausea, vomiting, or diarrhea. Signs and symptoms may appear within 2-14 days after exposure. CDC advises people to contact their health providers if they have signs and symptoms(regardless of severity), who have been in contact with a person infected with COVID-19, or who have travelled from an area with widespread or ongoing community spread of COVID-19. This helpful tool provided by the Minnesota Department of Health can help you decide whether to get tested.
Risk of getting COVID-19 depends on various factors, such as age, having underlying medical conditions, or whether one has to work outside of the home. There's no evidence that people of color have genetic or other biological factors that make them more likely to be affected by COVID-19. Instead, race and ethnicity can be risk markers for other underlying conditions that impact health, including socioeconomic status, access to health care, and increased exposure to the virus due to occupation (e.g., frontline, essential, and critical infrastructure workers).
7. I'm not showing signs or symptoms of COVID-19. Can I still have it and spread it to others?
Yes. According to the CDC and the Minnesota Department of Health, "Infected people may be able to spread the disease before they have symptoms or feel sick (starting from 2 days before illness onset). A person can also spread the disease if they have no symptoms. Research has shown that around 40-50% of people infected do not develop symptoms."
8. How do you protect yourself from COVID-19?
Stay safe by taking precautions such as:
Wear a face mask over your nose and mouth when in public or around those who do not live with you.
Wash your hands often with soap and water for at least 20 seconds. Use an alcohol-based hand sanitizer that contains at least 60% alcohol if soap and water are not available. Rub all parts of your hands dry.
Avoid touching your eyes, nose, and mouth with unwashed hands.
Avoid crowds and practice social distancing. Maintain at least 6 feet distance from people.
Stay home when you are sick.
Cover your cough or sneeze with a tissue, then throw the tissue in the trash. Wash your hands.
Increase indoor air ventilation by opening windows. Invest in portable air purifiers and HVAC systems, but know that you can still get COVID-19 even with these in place.
Be alert for symptoms. Watch for fever, cough, shortness of breath, or other symptoms of COVID-19. If ill, seek medical advice and testing.
*Additionally, please follow recommended guidelines provided by your local or State Health Department as these guidelines are constantly evolving.
9. Is it possible to have the flu and COVID-19 at the same time?
Yes. It is possible to test positive for flu (as well as other respiratory infections) and COVID-19 at the same time.
Get a flu shot. It keeps you from getting the flu and overwhelming the healthcare system, although it doesn't stop you from spreading COVID-19.
10. Why is it safer to be outdoors with people than indoors?
When you're outside, respiratory droplets scatter and disperse because of the constantly moving air flows. To get COVID-19, you have to breathe in a certain amount of droplets. You're less likely to breathe in enough when outside, especially when wearing a mask.
When inside, especially in poorly ventilated areas, respiratory droplets stay in the air and flow throughout the same space longer, meaning you're more likely to breathe in the droplets at a rate high enough to get COVID-19. This is why good ventilation, portable air purifiers, and HVAC filters are important indoors.
11. What is all this talk of cloth face masks?
CDC reviewed the latest science and affirms that cloth face coverings are a critical tool in the fight against COVID-19. Cloth face coverings can reduce the spread of COVID-19 by capturing droplets exhaled from those around you. Everyone should wear cloth face masks when in public or around people they do not know. Many states, like Minnesota, require that people wear face masks when in various indoor and outdoor spaces.
Follow these requirements when using cloth face coverings:
Fit over the nose and mouth and fit snugly but comfortably against the side of the face
Are secured with ties or ear loop
Allow for breathing without restriction
Should not be used if they become wet or contaminated
Should not be shared among workers unless adequately laundered between use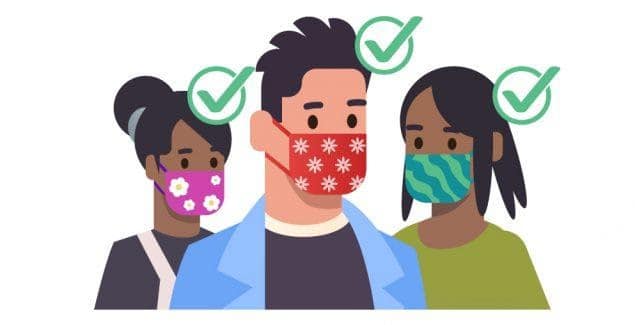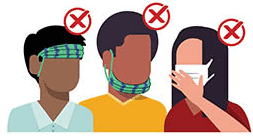 Source: CDC
12. What's the difference between respirators and cloth face masks?
A respirator is a personal protective device that is worn on the face or head and covers at least the nose and mouth and protects wearers from breathing in hazardous contaminants in the air. They come in various sizes and styles, and should be individually selected to fit the wearer's face and to provide a tight seal. A proper seal between the user's face and the respirator forces inhaled air to be pulled through the respirator's filter material, thereby providing protection. A respirator will be marked with its approval rating (e.g., N95, N100, etc.)
Disposable face masks are not respirators. They prevent splashes, sprays, large droplets, or splatter from entering the wearer's mouth and nose. The protective quality of disposable facemasks varies depending on the type of material used to make the facemask.
Source: FDA
13. Are there treatments for COVID-19?
14. Is there an effective vaccine for COVID-19?
15. Should I get tested for COVID-19?
You should get tested in the following situation:
If you have symptoms of COVID-19. (refer to question 6 for specifics).
If you have had or think you may have had close contact with someone with confirmed COVID-19.
If you are asked or referred to get testing by your healthcare provider.
Information on COVID testing may vary state to state.
16. Can COVID-19 infect my herd, flock, or pets?
According to the CDC, humans seem more likely to give COVID-19 to animals than vice versa. A limited number of animals in the United States have been infected with COVID-19.
https://www.aphis.usda.gov/animal_health/one_health/downloads/sars-cov2-in-animals.pdf
If you are sick, restrict contact with pets just as you would around other people. It is suggested that people with COVID-19 limit contact around all animals until more information is known about the virus and the susceptibility of various animals to the virus.
At this time, it appears that livestock or poultry are unlikely to get SARS-CoV-2 infection nor transmit the virus to humans.
COVID-19 in animals that have been confirmed by USDA's National Veterinary Services Laboratories.
17. What is the risk of COVID-19 in animal/food products?
There is currently no evidence that people can catch COVID-19 from food or food packaging. COVID-19 is a respiratory illness and the transmission route is through person-to-person contact and through direct contact with respiratory droplets generated when an infected person coughs or sneezes.
The Centers for Disease Control and Prevention (CDC), USDA, and Fish and Wildlife Services (FWS) are continuing to monitor and regulate the importation of live animals and animal products into the United States for any changes in these risks.
You should always always follow proper food and meat handling practices. Do not use bleach or other disinfectants on food.
18. Is it safe to go to food markets? Pet markets? Livestock auction markets?
If you are going anywhere where you are required to be around a larger group of people indoors and outdoors, it is crucial to maintain a safe physical distance of at least 6 feet from all other shoppers and staff, wear a face mask, and practice good hand hygiene (i.e. wash/sanitize hands). Food manufacturers implement Good Manufacturing Practices and Good Hygienic Practices (GMP/GHP) standards to maintain hygiene in food production and markets.
19. What should dairy/swine employers do?
There are a number of great resources to help producers prepare and prevent infections on their operations. This includes information on how to respond when a worker is ill and may need to isolate or exposed workers may need to quarantine. In addition, State resources can provide testing locations if needed.
Remember good biosecurity practices will protect you, your staff, and your animals.
Some resources for protecting agricultural workers and operations:
20. I live in a rural community. Do I really need to worry about getting sick?
Yes. As of the Fall 2020, data from the CDC indicates that the rate of COVID-19 has been increasing in rural communities. You can see the trend here.
21. How can we support our neighbors in rural communities?
During this time, think about the health and well-being of your neighbors in your rural communities. There are some resources available from UMASH that can be used to help identify the signs and symptoms of stress and who to contact if concerned. It is important to remember we are not in this alone. Maintain personal connections with your neighbors and friends through regular telephone or video check-ins.
22. I have a question that's not listed here. What should I do?
Feel free to contact us if you have agriculture or farm-related questions. Also, the Centers for Disease Control and Prevention (CDC) regularly updates their Frequently Asked Questions page. In addition, you can check your state resources or agencies (e.g., departments of health, agriculture, and cooperative extension) .