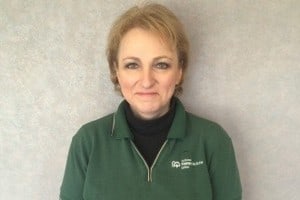 A national survey of agritourism operators conducted by the National Children's Center for Rural and Agricultural Health and Safety guided major updates to "Integrating Safety into Agritourism" (www.safeagritourism.com), and provided new information on activities offered by operators and the safety resources they desire.
"As agritourism continues to grow in popularity, implementing safety strategies to help maximize fun and minimize liability is increasingly important," Salzwedel said.
Safety took center-stage at the convention when NAFDMA Executive Director Charlie Touchette presented Marsha Salzwedel the organization's "Outstanding Leadership" award. Salzwedel credited the entire Children's Center team for the long-term, mutually beneficial relationship with NAFDMA.
The survey was conducted in the spring of 2014. An advisory team of farmers, agritourism association professionals, computer programmers and safety professionals used results of the survey to develop new content and redesign the homepage into walkthroughs, checklists and resources. Complete results of the survey are embargoed pending publication in a research journal. Virtual walkthroughs now cover 15 key areas of agritourism including new walkthroughs on farmers' markets, inflatables and large animal safety.
The National Children's Center for Rural and Agricultural Health and Safety is one of 9 Ag Centers, including the Upper Midwest Agricultural Safety and Health Center (UMASH), supported by the National Institute of Occupational Safety and Health (NIOSH).