Teaching agriculture safety and health is an important topic for the next generation of farmers and related agriculture professions.
To assist teachers incorporating agricultural safety and health, UMASH has compiled a list of resources that can be used during the academic school year, such as: lesson plans, awareness events and additional resources to integrate health and safety topics into the classroom in a teacher friendly format. While not an exhaustive list, these resources cover many safety aspects related to agriculture and include tips on how to use the material in the classroom.
---
Childhood Agricultural Injuries (U.S) 2022 Fact Sheet
Agriculture had the leading number of occupational fatalities across industries for youth age 17 and younger from 2011-2020.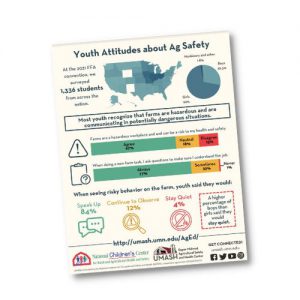 2021 FFA Infographic
This infographic is the result of a survey of FFA students that found that most youth recognize that farms are hazardous and are communicating in potentially dangerous situations.
---
10 WAYS TO PROMOTE AG HEALTH AND SAFETY
This fun flier highlights 10 ideas for incorporating ag health and safety topics into the classroom.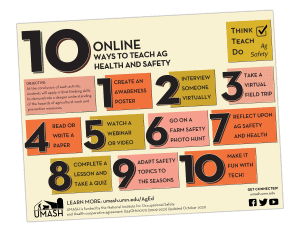 10 WAYS TO PROMOTE AG HEALTH AND SAFETY ONLINE
This flier displays 10 effective ways to teach ag health and safety in a virtual classroom setting.
---

AG EDUCATORS PROMOTIONAL CARD
Our Ag Educators promotional card is available for download in pdf format.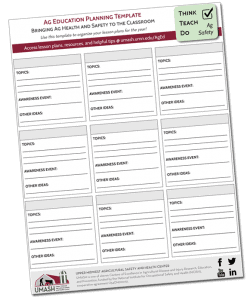 AG EDUCATION PLANNING TEMPLATE
Get started now on organizing your lesson plans for the year!
---
FARM SAFETY BINGO
Here's a fun activity for students of all ages. What safety practices have you completed in the past year? Can you get five in a row? Share your card on social media, tagging @UMASHexpo
UMASH ONLINE EXPO
UMASH Expo: A 20/20 Look at Ag Health, Safety, and Wellness featuring exhibitors, safety demonstrations and speakers on a number of health and safety topics.
---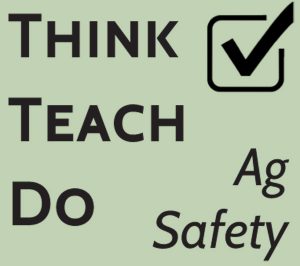 If you have questions or suggestions for additional resources, please contact us:
Email: umash@umn.edu
Phone: 612-625-8836
---
FEATURED UMASH RESOURCES
Links
Regional Agricultural Educators Associations