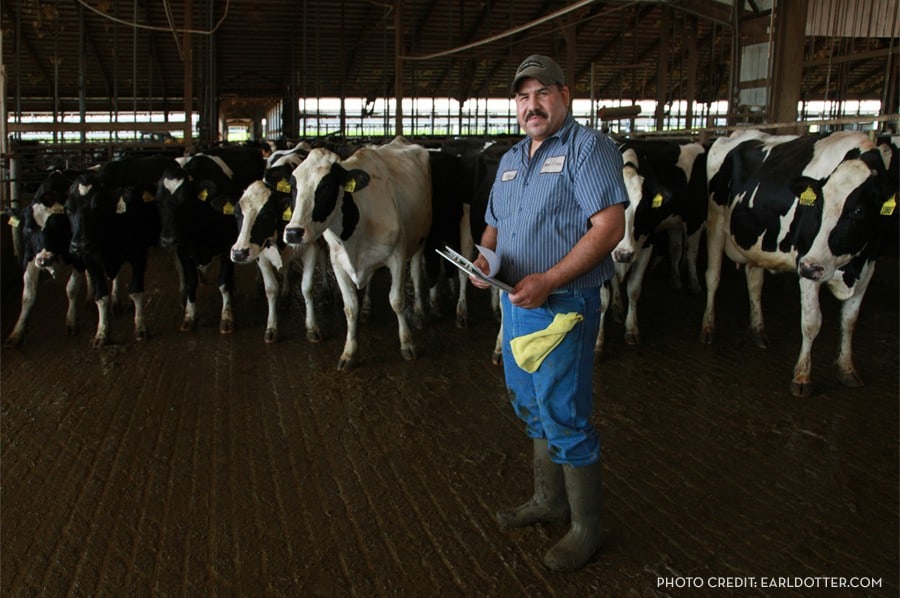 Project Description
As the size and concentration of dairy production increases in Wisconsin, so too does the diversity of the workforce. With an increasing number of immigrant, Hispanic workers in the Wisconsin dairy industry with unaddressed language barriers and training needs, culturally and lingustically appropriate education in agricultural health and safety is necessary.
The Seguridad en las lecherias project will employ a popular education model that builds on experiential learning approaches relevant to the everyday lives of workers.  The goal of this project is to bridge the gap in worker health and safety training in dairy production, by testing a culturally appropriate, occupational safety and health intervention to reduce worksite hazards and to improve knowledge and practices among immigrant dairy workers in Wisconsin.
SPECIFIC AIMS:
Translate and apply research to an occupational health and safety intervention for immigrant workers in dairy;
Engage dairy producers, farm managers, workers and clinicians, health and safety professionals to raise awareness and increase understanding of strategies to improve the occupational health and safety of immigrant workers in the dairy industry; and
Evaluate the intervention to determine reduction in hazards, changes in knowledge, attitude and practices among immigrant workers and the acceptability of the CAPE methods.
2015 Project Update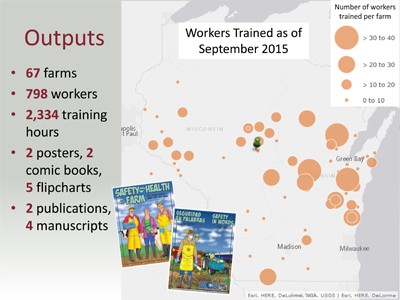 The steady increase in consumer demand for dairy products has led to the increase in size and concentration of dairy operations. These large farms bring new occupational risk factors and changes in the diversity of the workforce. It is now estimated that 60% of the milk supply in the US is produced with assistance from immigrant labor, most of which are Hispanic and makes up half of the dairy workforce. These immigrant workers tend to have limited formal education, no training in handling large animals and speak only Spanish.
The Seguridad en las Lecherias (Safety in Dairies) project addresses the needs of this vulnerable workforce by designing and implementing a bilingual health and safety training curriculum that is culturally appropriate for Hispanic workers. The training consists of five 1-hour lessons in Spanish with a 'train-the-trainer' approach that prepares selected Hispanic workers to become promotores de salud (community health workers) to allow for ongoing support and reinforcement of safety messages after the training is completed. The Occupational Safety and Health Administration (OSHA) has approved the curriculum. This year, the project team along with colleagues from four other organizations was given the Stakeholder Collaboration in Occupational Injury Research Award by the National Safety Council for their work. The training curriculum materials have also been provided by request to over 30 other organizations across the US to train workers outside of this project.
As of September 2015, the Seguridad project has trained almost 800 workers on 67 farms providing over 2,300 worker training hours. Trainings will be completed this year. Workers who have been trained show a clear increase in health and safety knowledge. Farmers also benefitted in their relationships with their workforce through this training. As one producer wrote in a thank you note, "The information provided during these lessons have been very beneficial to our Spanish-speaking employees because the language barrier often prevents us from the getting the information to our employees accurately or in a timely manner. This has been a very positive experience for all of us."

In it's initial phase, the project has reached
3,453 training hours to 850 workers on 68 farms.
Project News