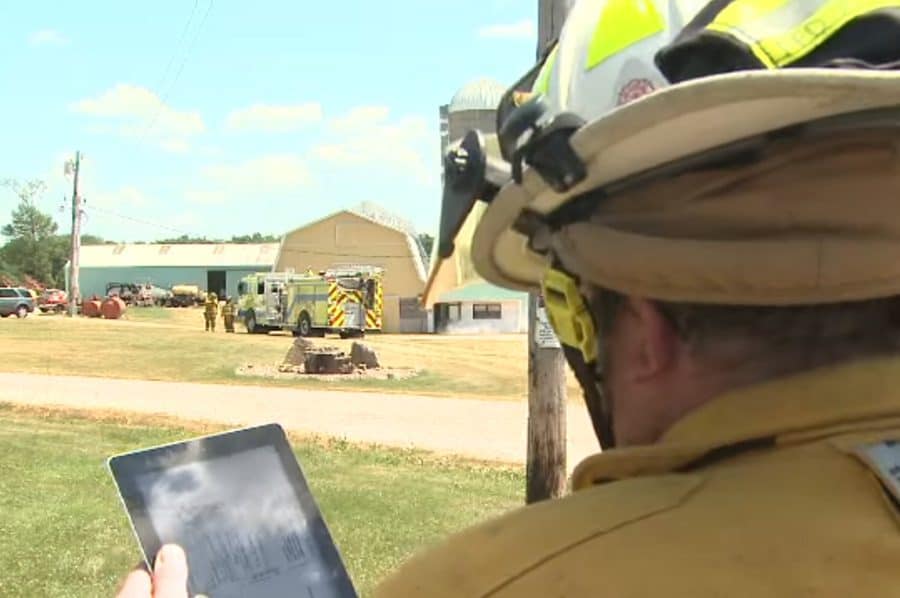 Project Description
Dates: 2016 – current

The overall goal of this project is to improve the farmers' access to capable health and safety consultation. The
Rural Firefighters Delivering Agricultural Safety and Health (RFDASH)
project provides farm safety tools and knowledge to rural firefighters through community colleges, emergency responder training events, and individual training officers. Fire departments, community colleges, and insurance companies in Wisconsin, Minnesota, New York, Massachusetts, Illinois, Vermont, and Ohio are currently participating.
Accomplishments so far include
RFDASH has been highlighted in a four-part series of Progressive Dairyman articles with a national audience.
Over 40 firefighters/EMS have been trained as trainers in the program including those from Wisconsin, Minnesota, New York, and Massachusetts.
New trainers have started to train others and make their own presentations. This includes over 20 new participants in Wisconsin, Vermont, and Ohio.
What can FarmMAPPER and SaferFarm.org can do for you?
This project is based upon results from the Spheres of Influence Project which found that farmers, agricultural bankers, and agricultural insurers believe that firefighters can be influential and motivate farmers to make changes to improve the health and safety on their farms. The project team believes that rural firefighters and first responders are highly esteemed people in rural and agricultural communities. With these new tools and knowledge, they can be influential on farmers' health and safety decisions in their communities. We believe this will reduce farm hazards and improve farm safety.
We will explore the feasibility and efficacy of equipping rural emergency responders with farm-specific first aid curriculum, safety consultation capabilities, and farm hazard mapping strategies to assist in emergency responses to farms. We will also provide rural fire departments with digital tools to help train and guide them in the conduct of farm safety consultations. We will also enlist local academic institutions and insurance companies in the development and support of programs to sustain this cross trained workforce.
The overall goal of this project is to improve the farmers' access to capable health and safety consultation by providing rural firefighters and emergency responders with farm safety knowledge and tools, thereby reducing farm hazards and improving farm safety.
NEWSLETTER
Every quarter we will send out a newsletter welcoming newcomers and highlighting new and exciting information in our combined efforts of making agriculture safer.
VIEW PAST ISSUES:
The following specific aims will be achieved over a five-year period:

Modify existing curricula to instruct rural emergency responders to effectively disseminate agricultural health and safety knowledge. The proposed curricula will enable firefighters to:

Instruct farmers, farm families, and farm workers in Farm First Aid in order to raise injury awareness and disseminate prevention strategies.
Perform agricultural safety consultations for farmers with the assistance of the Farm/Agriculture/Rural Management – Hazard Analysis Tool (FARM-Hazard Analysis Tool) in order to increase the number of competent agricultural safety consultants.
Utilize Farm Mapping to Assist, Protect and Prepare Emergency Responders (Farm-MAPPER) in order to prevent injuries to firefighters during farm emergencies and expedite response times.
The research team will utilize social network analysis and anthropologic data to describe and efficiently navigate the existing network of agricultural health and safety experts, fire training institutions, firefighters, insurance companies, and farmers.
The research team will develop guidelines and technical assistance resources in order to promote sustainability, update curricula, and enable replication of the RFDASH model in new regions.
RF-DASH Program Highlight

Loved the content and passion driving this project. I know it will go far. Well organized, easy to understand and use material.

Some of these farms are humongous and we don't know where everything is, so to be able to preemptively map the farm and know where the chemicals are, where the bulls are and where the gas shut offs are will help us in the event there is an emergency.

The program helps farmers look at themselves - self analysis and hopefully eliminate accidents. If they don't have to call us, then it will be a success.

As rural firefighters and EMS providers we have an opportunity through the RF-DASH training to move beyond the rescue and recovery and become part of the solution.
Farm Mapping to Assist, Protect and Prepare Emergency Responders (Farm MAPPER)
Project Resources
Project News