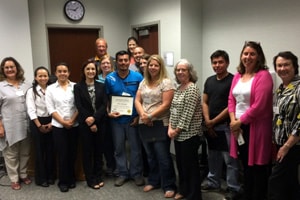 OCTOBER 2016
Iris Reyes
UMASH Project, Seguridad en Las Lecherias: Immigrant Dairy Worker Health and Safety
Research Specialist, National Farm Medicine Center
I recently had the privilege to organize an event acknowledging the efforts of participants in our Hispanic worker training research project. We had asked farmers and workers to perform a year's worth of activities that we think may increase the health and safety on their farms. We're almost done collecting data, and the preliminary results are promising.
As the five-year project ends this fall, my heart is bittersweet. We had our ups — winning an award for our collaborations, deliverables met — and our downs — staff turnover, hours of driving to distant farms and funding uncertainties. Through it all, we forged some lasting friendships among staff and participants.
As I do most of my work in the office, it was refreshing to meet some participants in-person for the first time after knowing them only by their subject ID. Then a colleague reminded me that that was likely also the last time I'll see them. And she's right.
It hit me … is this really it? I pondered this and realized that the project doesn't end just because the grant does. Publishing our results is just the beginning of our responsibility as researchers to give back. Beyond satisfying funders with our data, beyond the self-gratification of seeing our names in reputable journals, beyond the recognition of colleagues, our main objective is to use our skills to make a positive difference in the lives of those we serve. It's our duty to continue to be the voice of our participants, especially of those who are vulnerable and can only speak in the shadows of anonymity.
I am reminded of the Hispanic farm workers we interviewed in 2012, the results of which we were not able to publish until this year. In order to protect their confidentiality and privacy, we did not keep their identifying information. Our findings show that their immigrant status is in itself a work hazard. They get injured at work but do not report it because they are afraid that their boss will deport them. They live in silent fear every day yet for one afternoon, they had the courage to tell us their stories. (Read the full paper here.)
I like to think that this paper will someday help improve immigration policies. On an individual level, I hope this moves us to be kinder to our neighbors as it has for me. So to those research participants with which I have had the privilege of working:
Thank you for allowing me to glimpse your world. I am sorry that it took me so long to write your story. You may not know anything about me but you trusted me. We probably won't even know it if we cross paths again in person. You made a difference in my life; I strive to be a better researcher because of you. I hope you know that I did my best to paint the world a picture of what it's like to be in your shoes. At the very least, please know that I heard your voice. May others hear it too and may our combined efforts bring us closer to a bright future.