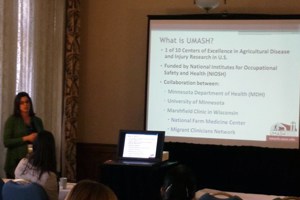 UMASH staff presenting in Saskatoon, SK, Canada, October 19-22, at the 7th International Symposium: Safety & Health in Agricultural & Rural Populations: Global Perspectives (SHARP) included:
Carrie Klumb, Minnesota Department of Health, "Healthy Fairs Workshops: A One Health approach to improving health and safety at county fairs in Minnesota"; (pictured)
Pete Raynor, University of Minnesota School of Public Health, "Effects Of Production Practices and Environmental Factors on Air Contaminants in Swine Facilities";
Iris Reyes, National Farm Medicine Center, "Surveillance of Disease and Injury in Wisconsin Dairy Farmers and Workers", "Migrant workers in agriculture and rural areas – global perspectives and local response", "Finding Data, In Data: Mining Terms from Electronic Medical Records for the Characterization of Dairy Worker Populations", and "A computer application for clinicians to facilitate the return‐ to‐ work of injured agricultural workers";
Amy Liebman, Migrant Clinicians Network, "Promotor de Salud (Community Health Worker) Model in Agriculture: A local response to a global challenge".
This international conference focused on bringing together international expertise highlighting research and best practice addressing agricultural and rural health globally to promote Healthy People, Healthy Workplaces, Healthy Environments, and Healthy Communities.
The conference was co-sponsored by the Canadian Association for Research on Work and Health and Canadian Rural Health Research Society with support from the NIOSH supported Agricultural Safety and Health Centers in the United States.