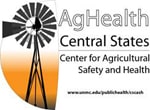 The Central States Center for Agricultural Safety and Health (CS-CASH) is now accepting applications for their pilot/feasibility projects program.   These projects can lead to the development of new and creative research, prevention, intervention, outreach, education, evaluation, or translation findings and outcomes. They can explore new activities or directions, or take advantage of special opportunities. Pilot project duration is limited to 18 months and funding is limited to $20K per project. Pilot projects are primarily intended to assist investigators to obtain pilot data that can be used in pursuing support through other funding mechanisms.
Research conducted in or involving participants and communities in the CS-CASH seven states
region will be given priority.  These states include: ND, SD, IA, MN, NE, KS, MO. 
Letter of intent due date: July 20, 2018.  Application deadline is August 24, 2018.