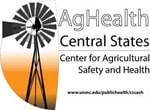 Grants up to $20,000 are being offered by the Central States Center for Agricultural Safety and Health (CS-CASH) as part of their pilot/feasibility projects program.
Pilot/feasibility projects are fundamental to sustaining the quality, breadth, and dynamics of the Center program. These projects can lead to the development of new and creative research, prevention, intervention, outreach, education, evaluation, or translation findings and outcomes. They can explore new activities or directions, or take advantage of special opportunities.
Pilot project duration is limited to 18 months and funding is limited to $20K per project. Pilot projects are primarily intended to assist investigators to obtain pilot data that can be used in pursuing support through other funding mechanisms.
Faculty, staff, students, and individuals with an interest in agricultural health and safety and the skills, knowledge, and resources necessary to carry out the proposed project are invited to develop an application. Eligible institutions include for-profit, nonprofit, public, or private institutions; units of local or state government and eligible Federal agencies; units of local and state tribal government; and faith- or community-based organizations.
LETTER OF INTENT DUE: JULY 10, 2015
APPLICATION DEADLINE: AUGUST 7, 2015