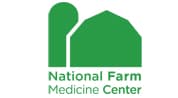 National Farm Medicine Center
Marshfield Clinic Research Institute
The Associate Research Scientist maintains and conducts a high quality research program to achieve the organizational goals and results within the Marshfield Clinic Research Institute (MCRI). The research activities are determined by the National Farm Medicine Center (NFMC) Center Director and there may be opportunities to participate in and receive some funding from existing funded research projects.
The scientist in this tenure track position will conduct independent, original, applied (translational) research in agricultural safety and health; publish peer-reviewed manuscripts; secure extramural funding; and collaborate with NFMC and MCRI scientists, clinician investigators, and external scientists. This individual is expected to be involved in national and international scientific endeavors, including peer-review mechanisms, and presentations at professional conferences. Options to participate in leadership roles within the NFMC and/or the NIOSH-funded National Children's Center for Rural and Agricultural Health and Safety are available.