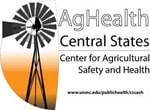 The Central States Center for Agricultural Safety and Health (CS-CASH) is now accepting applications for their pilot/feasibility projects program.   These projects can lead to the development of new and creative research, prevention, intervention, outreach, education, evaluation, or translation findings and outcomes. They can explore new activities or directions, or take advantage of special opportunities. Pilot project duration is limited to 18 months and funding is limited to $20K per project. Pilot projects are primarily intended to assist investigators to obtain pilot data that can be used in pursuing support through other funding mechanisms.
Research conducted in or involving participants and communities in the CS-CASH seven states
region will be given priority.  These states include: ND, SD, IA, MN, NE, KS, MO. 
Letter of intent due date: July 20, 2018.  Application deadline is August 24, 2018.
Examples of pilot or feasibility project activities include:
Initial support for developing novel, innovative, cutting-edge research, translation, prevention, intervention, education, or outreach approaches;
Adapting and evaluating proven prevention, intervention, outreach, or education tools or techniques for new populations, work environments, or delivery systems;
Obtaining preliminary data, mining existing state or national datasets, or pursuing critical data gaps;
Supporting investigators from other fields of study to apply their expertise to agriculture safety and health challenges;
Developing new mechanisms for external or multicenter collaborative partnerships to address emerging agriculture safety and health concerns; and
Exploring new directions that represent significant departures from established approaches yet have the potential to yield great impacts.
Faculty, staff, students, and individuals with an interest in agricultural health and safety and the skills, knowledge, and resources necessary to carry out the proposed project are invited to develop an application. Eligible institutions include for-profit, nonprofit, public, or private institutions; units of local or state government and eligible Federal agencies; units of local and state tribal government; and faith- or community-based organizations. Trainees are encouraged to apply together with more senior researchers or faculty members. Junior researchers at early career stages are encouraged to apply. Women and individuals from underrepresented racial and ethnic groups, as well as individuals with disabilities, are especially encouraged to apply.
READ THE FULL RFP