ONE HEALTH IN AGRICULTURAL SAFETY AND HEALTH
---
The One Health philosophy plays a key role in UMASH research, education, and prevention projects: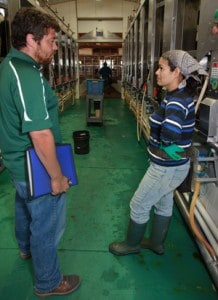 Photo credit: earldotter.com
Zoonotic diseases are caused by pathogens that are transmissible between humans and animals. What are they? How are they being transferred? How can they be prevented?
Changes in production practices that benefit animal health and well-being can impact worker health and safety.
Injuries and lost days of work place a financial burden on farmers and producers. Reducing injuries should be a farm business economic strategy.
Technology is being used to help clinicians and farmers get injured workers back on the job quicker.
Culturally appropriate training curriculum has been developed and is being tested training immigrant dairy workers
Training rural firefighters to deliver agricultural health and safety knowledge in their farm communities.
---