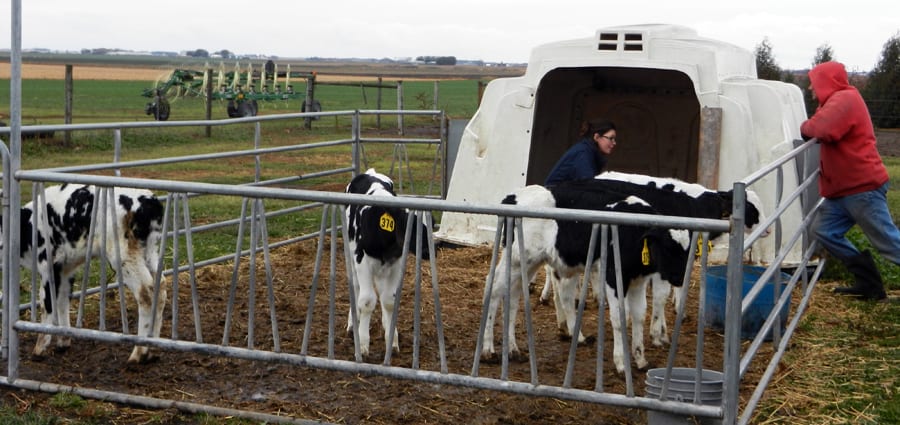 Project Description
RELATED PROJECT:
Surveillance for Zoonotic Diseases in Agricultural Workers in Minnesota
Dates: 2016 – 2022
Previous work by the Minnesota Department of Health (MDH), through UMASH, has shown that occupational infections from animals associated with agriculture are a bigger problem than previously thought. The goal of the current project is to reduce the number of illnesses among agricultural workers, their families, and others who are exposed to animal agriculture settings.
The specific aims are to:
Continue interviewing people who had an animal agriculture exposure before their zoonotic enteric illness (illnesses that animals and people can share). This gives us more information to describe who is getting sick with these infections, how many people are getting sick, and if there are any patterns of illness emerging.
Use this information to identify specific risk factors for getting sick from the most important types of these germs (i.e., Campylobacter, Salmonella, Cryptosporidium parvum, and Shiga toxin-producing E. coli). Develop ways to prevent illness or minimize risk of illness.
Collaborate with neighboring states (e.g., North Dakota, South Dakota, Wisconsin, Iowa, and Nebraska) to estimate how many agricultural workers are affected by these infections regionally, which represents a large proportion of animal agriculture in the U.S.
Collaborate with Dr. Peter Davies at the University of Minnesota to determine whether Staphylococcus aureus (MRSA and MSSA) strains known to colonize pigs are causing illness in humans, which is currently unknown in the United States.
Continue to identify, respond to, and describe newly emerging zoonotic infections related to animal agriculture through enhanced surveillance for unexplained critical illnesses and deaths and enhanced testing of enteric disease outbreaks.
MDH will continue to rely on and grow relationships with partners in animal agriculture industries, the Minnesota Board of Animal Health, the Minnesota Department of Agriculture, and academia. These relationships are the key to a coordinated, effective response to emerging issues involving both animal health and human health, as well as to the development, implementation, and success of prevention programs aimed at minimizing risk.
2019 Project Update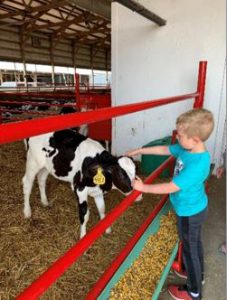 Agriculture is the Foundation of Minnesota's Economy Minnesota ranks 5th in the United States in overall agriculture production and generates over $112 billion annually in total economic impact while supporting more than 430,000 jobs. Minnesota is the largest producer of turkeys in the U.S. and the 3rd largest producer of hogs. Agriculture is not only integral to Minnesota's economy; it is also a big part of Minnesota culture. More than 90 county fairs and the Minnesota State Fair attract more than 2.1 million visitors each year. Food production animals naturally carry several zoonotic pathogens (germs that can be passed between animals and people) that can cause illness in agricultural workers, their families, and visitors to fairs and farms. However, little information is available on how commonly these populations acquire zoonotic diseases from food production animals, as well as specific on-farm risk factors for acquiring these diseases from food animals.
Since 2012, this UMASH project at the Minnesota Department of Health (MDH) has focused on documenting the scope of this problem in agricultural populations and visitors to agricultural venues. This information will inform prevention measures and guide our educational efforts around zoonotic enteric diseases.
Illnesses caused by Cryptosporidium, E. coli O157:H7 and other Shiga toxin-producing E. coli (STEC), Campylobacter, and Salmonella infections are reportable to MDH, and all ill people are interviewed with a routine questionnaire that includes questions about agricultural exposures (living on, working on, or visiting a farm, petting zoo, fair, or other venue with animals). Since 2012, patients who report a food animal agriculture exposure have been re-interviewed with a more detailed questionnaire about their interactions with the animals.
From 2012-2018, there were 11,399 laboratory-confirmed illnesses among Minnesotans that were eligible for our study. Of these, 2,590 (23%) reported an animal agriculture exposure in Minnesota right before they got sick. Sixty-two percent of ill people with an animal agriculture exposure reported living and/or working on a farm, 28% reported visiting a private farm, and 10% reported visiting a public animal agriculture venue.
Fifty-nine percent of all Minnesota residents with a Cryptosporidium parvum infection, 27% with a Campylobacter infection, 23% with an E. coli O157:H7 infection, 16% with a non-O157 STEC, and 10% with a Salmonella infection reported a food animal exposure prior to their illness. These percentages are much higher than previously estimated for most of these pathogens. Additionally, Minnesotans who live or work on a farm are 8 times more likely to be diagnosed with one of these infections than Minnesotans who do not live or work on a farm.
In the coming year, we will be making some changes to the questionnaire to better describe backyard chicken and hobby farm exposures. We will continue to collect data in 2020. We will also be focusing on publishing pathogen specific papers using the data collected from 2012-2018 and we will work on assimilating similar data from neighboring states.
MDH also investigates animal-contact related outbreaks. For the fourth year in a row, Minnesota was part of a large, nationwide outbreak of Salmonella infections associated with live baby poultry contact. Thus far in 2019, over 1,100 people from 49 states (including 33 from Minnesota) have become ill with salmonellosis, resulting in 219 hospitalizations and 2 deaths. MDH is partnering with the Minnesota Board of Animal Health to educate both the stores that sell live poultry and the people who purchase poultry. MDH also investigated an outbreak of Cryptosporidium infections associated with a school field trip to a private farm. We conducted a site visit at the farm and worked with the operator to come up with tailored recommendations that would limit the risks of another outbreak occurring on the farm. Providing these tailored, one-on-one consultations has become a larger part of the work we do to help prevent these outbreaks from occurring.
---
Minnesotans who live or work on a farm are 8 times more likely to be diagnosed with one of these infections than Minnesotans who do not live or work on a farm.
Project News
SPOTLIGHT: Some Things Shouldn't be Shared

FEBRUARY 2021 The concept of sharing for most of us probably goes back to childhood. Whether we learned to share with a sibling, a friend, or in school,

SPOTLIGHT: Living, working on farms increases risk of gastrointestinal illness

MARCH 2020 New study reveals greater levels of infection in people working with livestock Minnesotans who live or work on a farm with livestock and poultry