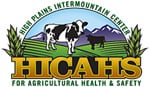 The High Plains Intermountain Center for Agricultural Health and Safety (HICAHS) is one of ten national Agricultural Safety and Health Centers sponsored by the National Institute for Occupational Safety and Health (NIOSH).
Grant money is available to community-based organizations for the development of programs that
promotes health and safety in agriculture, forestry, and fishing. All projects that address issues related to the type of agricultural and forestry in Colorado, Montana, North Dakota, South Dakota, Utah, and Wyoming will be considered. Projects that align to the National Occupational Research Agenda (NORA) for Agriculture, Forestry, and Fishing will be given a higher priority.
A maximum of $12,000 can be granted per application and these funds must be spent by August 14,
2019.
Application deadline is April 11, 2019.
The objectives of this grant program are to:
Augment regional agricultural health and safety education programs by providing community-initiated small grants to regional agricultural partners involved in the prevention of occupational injuries and illnesses;
Enhance and refine the translation and dissemination activities of organizations receiving agricultural community-initiated small grants through evaluation and impact assessment processes.
READ THE FULL RFP