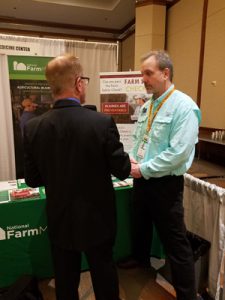 Scott Heiberger and Melissa Ploeckelman are no strangers to the agricultural media. In November, they headed to Kansas City to take part in the National Association of Farm Broadcaster's Annual Convention. One of the main events at the annual conference is Trade Talk. During Trade Talk, Heiberger and Ploeckelman had an exhibit table to discuss our 4 topics with ag media broadcasters from radio and television media.
Our four topics were:
1.) Rural Firefighters Delivering Agricultural Safety and Health:
A new national project teaming emergency responders with farmers.
2.) AgInjuryNews.org:
The largest database of publicly available ag injury and fatality reports.
3.) Farm Safety Check:
Monthly checklist topics.
4.) Agricultural Youth Work Guidelines:
Helping youth do the job safely.
Heiberger and Ploeckelman made connections with 16 media outlets to do interviews and discuss future collaborations. Many media personnel that visited the table wanted more information on the RF-DASH project, which was a great opportunity to discuss, as there was a train-the-trainer going on in Wisconsin Dells, WI at the same time. It was shared in many interviews that the overall goal of the RF-DASH project is to improve the farmers' access to health and safety consultation. Along with these topics, we also used UMASH's Stress and Mental Health resources such as Signs and Symptoms of Stress and the Cultivating Resiliency Recorded Webinars.