The art of teaching is the art of assisting discovery.
Agriculture ranks among the most hazardous industries according to the National Institute for Occupational Safety and Health. Farmers are at very high risk for fatal and nonfatal injuries; and farming is one of the few industries in which family members (who often share the work and live on the premises) are also at risk for fatal and nonfatal injuries.
Teaching agriculture safety and health is an important topic for the next generation of farmers and related agriculture professions.
To assist teachers incorporating agricultural safety and health, UMASH has compiled a list of resources that can be used during the academic school year, such as: lesson plans, awareness events and additional resources to
integrate health and safety topics into the classroom
in a teacher friendly format. While not an exhaustive list, these resources cover many safety aspects related to agriculture and include tips on how to use the material in the classroom.
If you have questions or suggestions for additional resources, please contact us:
Email: umash@umn.edu
Phone: 612-625-8836
Our Ag Educators promotional card is available for download in pdf format.
---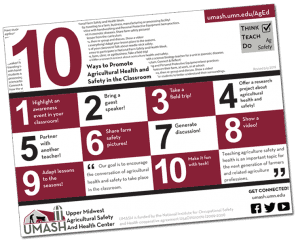 10 WAYS TO PROMOTE AG HEALTH AND SAFETY
This fun flyer highlights 10 ideas for incorporating ag health and safety topics into the classroom.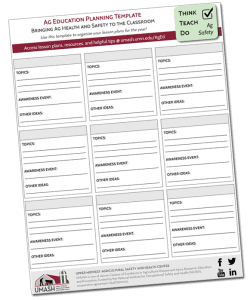 AG EDUCATION PLANNING TEMPLATE
Get started now on organizing your lesson plans for the year!
---
---
FEATURED UMASH RESOURCES
Links
Regional Agricultural Educators Associations