APRIL 2022  (Updated October 2022)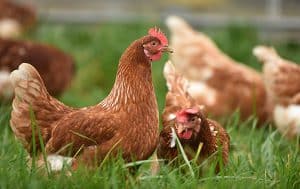 Highly Pathogenic Avian Influenza (HPAI), also known as "bird flu," is a serious, highly contagious disease that is often fatal to chickens and turkeys.
Outbreaks of HPAI can result in culling entire flocks, loss of income, and an overwhelming toll on farmers' and workers' physical and mental health. HPAI requires a rapid response to keep the virus from spreading between flocks and farms. During an outbreak, the goal is to contain and eradicate the disease quickly, protecting our poultry workers and industry, and in turn, the American consumer. Human infections with avian influenza are rare, but possible, mainly through direct contact with sick birds.

UMASH has prepared a toolkit to help poultry farmers enhance prevention with biosecurity protocols, identify the signs and symptoms of HPAI in birds, and stay connected to additional resources from USDA – APHIS and state departments of agriculture.
HPAI TOOLKIT

UNDERSTAND AVIAN INFLUENZA
Be informed by learning the facts, and latest information on avian influenza outbreaks.

PRACTICE BIOSECURITY
Be prepared with a solid biosecurity plan to help prevent the spread and protect your flock.

MONITOR YOUR FLOCK'S HEALTH
Know the signs of disease and check your flock daily for signs of illness.
VIEW RESOURCES
Signs of disease:
Sudden death
lack of energy, appetite and coordination
purple discoloration and/or swelling of various body parts
diarrhea; nasal discharge; coughing
sneezing; reduced egg production and/or abnormal eggs.
Quarantine sick birds right away.
REPORT SICK BIRDS
Know the procedure for reporting sick birds in your state.
VIEW UPPER MIDWEST CONTACT INFO
RESOURCES BY ROLE:
HPAI RESOURCES FOR FARM WORKERS:
HPAI RESOURCES FOR FARMERS AND PRODUCERS:
Biosecurity checklists from USDA:

Find these checklists in Spanish, Tagalog, Vietnamese, and Chinese here.
HPAI RESOURCES FOR CLINICIANS:
For more information about HPAI:
OTHER RELATED RESOURCES: