2019 NORA Symposium
MAY 2, 2019
The 2019 NORA Symposium was held May 2, 2019 in Mayo Memorial Auditorium at the University of Minnesota School of Public Health. The theme for the forum was "Stressed Out From Work: An Occupational Hazard", and addressed the challenges of stress and mental health problems that result from work. Eighty four people attended and represented numerous organizations including health care, academia, government, non-profits and business/industry. The forum also included a research poster session and project exhibits showcasing training and educational resources.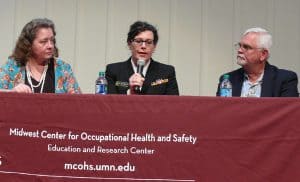 Three panelists, representing agricultural producers, firefighters and veterinarians shared their own unique perspectives of the impact of stress in the workplace and the resulting adverse effects.
Stacey Holzbauer, Doris Mold and Joe Meuwissen each presented an overview of the issue and mental health implications in each of their occupations and answered questions as part of a panel discussion. The question and answer session was facilitated by Dr. Josie Rudolphi of the National Farm Medicine Center and Dr. Pat McGovern from the School of Public Health, University of Minnesota.
The speakers were able to bring to the forefront particular areas of concern. Stacy Holzbauer discussed the rising rate of suicides among veterinarians – both large and small animal and male and female veterinarians. Many factors account for this rise including long hours, student debt, owner expectations and access to pharmacologics. Doris Mold, who wears many hats, one of which is a farmer, brought to light the tough times in farming, particularly the poor economics which has been on the rise for a number of years and the toll it has taken and continues to take. Joe Meuwissen, who is a retired firefighter and licensed school social worker discussed the characteristics of firefighters and culture of the occupation. Post Traumatic Stress Disorder (PTSD) is common for those in this field many of which are volunteer firefighters. More support, information and training is needed to assist this group of emergency personnel.

View the video below

Posters Presented by UMASH Researchers and Pilot Project Recipients
McGovern PM, Saunders JB, Mcalpine, D. Stress and Resilience: The Impact of the 2015 Outbreak of Highly Pathogenic Avian Influenza on Minnesota Poultry Growers, Farm Workers and Industry Stakeholders
Schossow M, Macy K, Moynihan M, Friedman J, Valeri L, Vazquez C, Kampa D, Harwood E, Bender J, Alexander B. Building Resilient Agricultural Communities
Alexander BH, Bender J, Keifer MC. Building Partnerships in Agricultural Health and Safety, Upper Midwest Agricultural Safety and Health Center (UMASH)
Heiberger S, Ploeckelman M, Yoder A, Duysen E, Leonard S. Telling the Story – Development of a Collaborative Outreach Project
Schossow M, Ploekelman M, Koerte T, Kampa D. Social Safety: Spring Agritourism Campaign
Balius P, Bernstein L, Bender JB, Alexander BH. Needlestick Injuries in Swine Production Workers
Mold D, Roberts ML. Cultivating Resiliency for Women in Agriculture: An Interactive Webinar Series and Online Questionnaire
Sheridan C, Kampa, D. Stress and Mental Health Conversations with Gear Up for Ag Health and Safety™
PANELISTS
DISCUSSANTS
---
The NORA Symposium is co-sponsored by the Midwest Center for Occupational Health and Safety Education and Research Center (MCOHS) and the Upper Midwest Agricultural Safety and Health Center (UMASH).