Prescription Opioid Use in Occupational Health Care: Reducing Risk and Improving Safety
MAY 5, 2017
The widespread use of opioids has been characterized as the worst man-made epidemic in modern medical history. From 1999 to 2015, more than 183,000 people died in the U.S. from overdose related to prescription opioids.
Opioid use has a significant impact on occupational health services delivered to injured workers through the workers' compensation system. Dr. Wickizer will review the nature and scope of the opioid problem within both workers' compensation and the general population and will summarize the state of current initiatives aimed at addressing this public health crisis.

---
AGENDA
2:30 – 3:30 pm
Final Registration, Reception, and Poster Session
Light refreshments will be served
3:30 – 4:45 pm
Presentation and Discussion Session
4:45 – 5:30 pm
Poster Viewing
---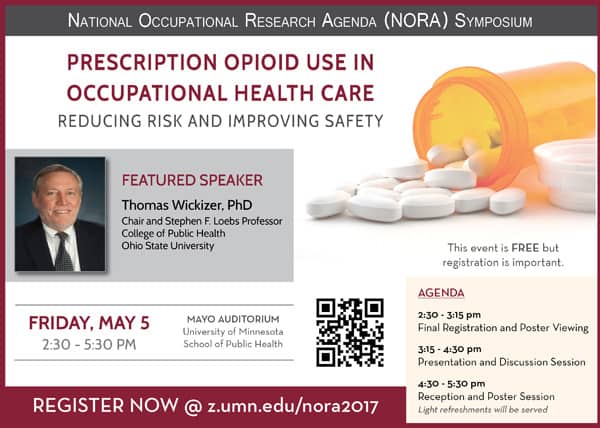 ---
The NORA Symposium is co-sponsored by the Midwest Center for Occupational Health and Safety Education and Research Center (MCOHS) and the Upper Midwest Agricultural Safety and Health Center (UMASH).