JUNE 2022
Manure from animal agriculture offers beneficial nutrients for crops and plants; however, the Upper Midwest has seen several severe injuries and fatalities in the last few years related to manure management. As manure management practices change and become more complex (and potentially more dangerous!), UMASH wanted to better understand this emerging issue in agricultural health and safety. Therefore, UMASH collaborated with University of Minnesota Extension colleagues to develop and distribute a survey to Minnesota Custom Waste Applicators about the nature of their work and experiences with injury and illness.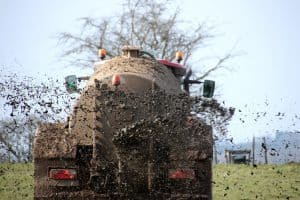 Devon Charlier and co-authors Melissa Wilson, Chryseis Modderman, Erin Cortus, Kevin Janni, Carol Peterson, Megan Schossow, Bruce Alexander, and Jeff Bender summarized the results of this study in "Assessing Self-reported Occupational Hazards of Manure Applicators in the Upper Midwest," a recent peer-reviewed publication in the Journal of Agromedicine.
Read the Article
While the research about this emerging issue is ongoing, UMASH and collaborators will translate these findings into outreach materials to support the health and safety of those working with manure.
---
RESOURCES