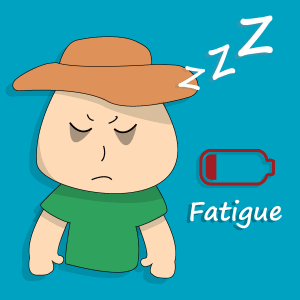 Fatigue has serious negative impacts on physical and mental health. Operating machinery when you're sleep deprived can be as dangerous as operating machinery under the influence.
Increased physical and mental demands can result in poor sleep, which increases the risk for injuries. While seasonality is a part of farming, it is important to be aware of the consequences fatigue can have, and what you can do to promote safety and health on your farm.
Take a moment, set down the coffee, and review this Farm Safety Check to check in on fatigue and help prevent injuries.
SAFETY CHECKLIST
The checklist below lists a few things to help recognize the signs, symptoms and possible strategies to address fatigue:
Are you prioritizing rest, recovery, and sleep? Staying well-rested is essential for safe work performance?
Are you aware of the symptoms of fatigue? These can include drowsiness, apathy, dizziness, headaches, vision impairments, poor concentration, slow reflexes, changes in mood.
Are you managing stress? Strategies include a regular short walk, talk with a friend, or practice mindfulness. High stress levels can contribute to fatigue.
Have you maintained a balanced diet with adequate hydration?
Are you heavily reliant on caffeine? This could indicate fatigue.
Have you had a recent physical exam? Fatigue can be a symptom or caused by multiple medical conditions (depression, anemia, medication side effects, etc.).
Does your safety plan for employees address fatigue management? This could include work maximums, rest minimums, and working in pairs.
Have you established reliable and regular communication on the farm? Both fatigue and working alone can be risky to farmers.
You and/or your employee(s) can download and print a pdf checklist to complete safety checks on your farm.  Keep the completed forms for follow-up, future reference and inspections.
DOWNLOAD PDF CHECKLIST
Disclaimer: The facts and information listed above are suggestions for your safety, but are in no way a comprehensive and exhaustive list of all actions needed to insure your safety.
---