2015 UMASH ANNUAL FORUM EVENT SUMMARY
GROWING AGRICULTURAL EDUCATION:
EMBRACING HEALTH AND SAFETY
MAY 28, 2015
The 2015 UMASH Annual Forum entitled "Growing Agricultural Education: Embracing Health and Safety" was held at the Davies Center on the University of Wisconsin – Eau Claire campus on May 28, 2015. The forum was co-sponsored by the Upper Midwest Agricultural Safety and Health Center (UMASH), the College of Nursing and Health Sciences at the University of Wisconsin – Eau Claire, the Southern Minnesota Center of Agriculture and South Central College and MN West Community and Technical College, the National Farm Medicine Center in Marshfield WI, and the Migrant Clinician's Network.
Fifty-five attendees from diverse backgrounds including healthcare, occupational health and safety, education, research, government, media, communications, immigrant services and human resources participated in the forum. The interactive format provided attendees many opportunities to network and take part in discussions with different attendees throughout the day.
View the photo gallery on Flickr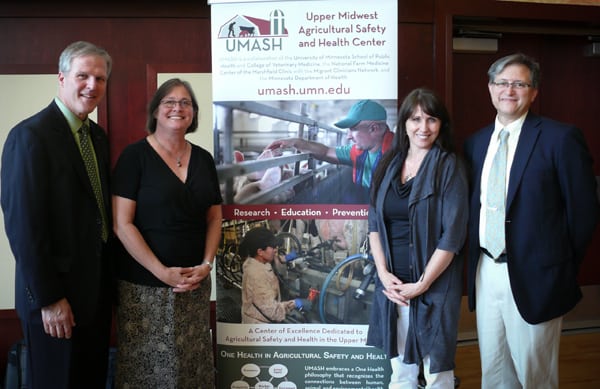 PRESENTATIONS
The forum included four presentations highlighting existing efforts to address agricultural health and safety in educational programs.
UMASH – Our work engaging partnerships and One Health
Curriculum Review Summary
Jeff Bender, Co-Director UMASH
Nurses reaching into the Rural Community – What's happening at Eau Claire
Lisa Schiller, Assistant Professor
College of Nursing and Health Sciences, UW-Eau Claire
Invest in Your Health: Impacting the Lives of College Ag Students
Carolyn Sheridan, Clinical Director, AgriSafe Network
Agriculture education from High School to Community College – 9-16+ (How it all adds Up)
Brad Schloesser, Dean of Agriculture
Southern MN Center of Agriculture, South Central College, MN West Community and Tech College
DISCUSSIONS
A panel discussion and a series of small group discussions focused on:
What should we be teaching students about ag health and safety?
What are the opportunities and barriers for providing ag health and safety education?
What partners need to be involved?
What education and outreach materials/resources do we need?
RESOURCES
A number of participating organizations also shared information or health and safety resources.
IN THE NEWS
Working to implement safety and health on the farm
Interview with Dr. Matt Keifer
Brownfield Ag News for America
CONTINUE THE DISCUSSION!
Let us know your thoughts on stimulating further discussion and engaging people and organizations more broadly to focus on agricultural health and safety in education. Email us at umash@umn.edu
Join the UMASH email list to stay informed about this and other UMASH efforts to improve the health and safety of farmers and their families. Email us at umash@umn.edu to subscribe.
Together we can make a difference.
---
SPONSORS
| | | |
| --- | --- | --- |
| | | |
| | | |
| | | |