Antimicrobial Resistance in Agriculture:
Is it a Worker Health Issue?
SEPTEMBER 26, 2019
1:00 – 4:00pm
On September 26th, 2019 the UMASH Annual Forum: "Antimicrobial Resistance in Agriculture: Is it a Worker Health Issue" gathered a multidisciplinary array of professionals to share information, identify key concerns, and strategize responses pertinent to the issue of antimicrobial resistance (AMR) and its relevance to agricultural worker health and safety. Forum attendees represented many backgrounds, including health care, government, non-profits, and academia.
Expert panelists and participants alike emphasized that this complex issue requires thoughtful questions and multidisciplinary collaboration. We hope that the ideas and questions raised at the Forum appropriately set the stage for meaningful next steps, including the pursuit of UMASH funding for partner projects.
Executive Summary (pdf)
A summary of the forum, including the purpose and objectives, emerging themes, challenges and priorities, approaches, and next steps.
---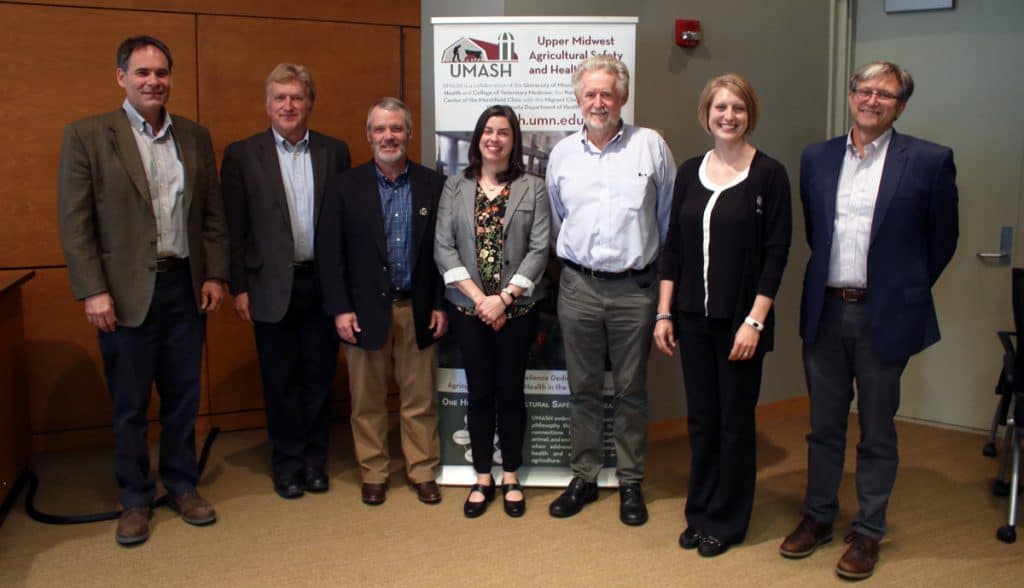 ---
PRESENTATIONS
Antimicrobial Resistance: A Crisis We Can't Ignore

Kristen Obbink DVM, MPH, DACVPM, CCRT
Associate Director National Institute of Antimicrobial Resistance Research and Education, Iowa State University
Antimicrobial Resistance: Is it a Worker Health Issue?

Peter Davies BVSc, PhD
Professor, Department of Veterinary Population Medicine (VPM), University of Minnesota
Evaluation of Antimicrobial Resistance Among Salmonella or Campylobacter Isolates from Agricultural Workers, 2012-2015

Carrie Klumb MPH
Senior Epidemiologist at the Minnesota Department of Health
Mitigating Transmission of Antimicrobial Resistance on Large Dairy Farms – A Project Overview

John Shutske PhD
Professor and Extension Specialist, Biological Systems Engineering, School of Medicine & Public Health, Univ of Wisconsin – Madison
Zoonoses in Farm Workers: Observations from South Dakota

Russ Daly DVM, MS, DACVPM
Extension Veterinarian and Professor, Veterinary and Biomedical Sciences Department, South Dakota State University; State Public Health Veterinarian, South Dakota Department of Health
WELCOME AND OPENING REMARKS
PANELISTS
SHARE