JUNE 2018
"Nothing is more pleasant to the eye than green grass kept finely shorn." – Francis Bacon
Summer is upon us and with that comes mowing and grass cutting. Often times, mowing is a first job for many youth to work and possibly earn income on the farm.
Our colleagues at The National Children's Center for Rural and Agricultural Health and Safety have developed Agricultural Youth Work Guidelines. Read on to find out if mowing and grass cutting are the right jobs for your child.
---
Agricultural Youth Work Guidelines: Matching Children with Appropriate Tasks
Scott Heiberger
Communications Specialist
National Farm Medicine Center
As grass-cutting season gets underway it's typical to see children and teenagers operating push and riding mowers. But these tasks can be hazardous. Approximately 17,000 children and teens are treated in U.S. hospital emergency departments each year for lawn mower injuries, according to the American Academy of Pediatrics.
The Agricultural Youth Work Guidelines can help parents and supervising adults determine if a youth is able to safely perform mowing and other tasks. "Operating a Lawn Mower" is the latest addition.
"Farmers told us that lawn mowing is one of the first jobs involving powered equipment that they have their children do, and one of the most common jobs that they hire youth to do," said Marsha Salzwedel, M.S., project leader and youth agricultural safety specialist at the National Children's Center for Rural and Agricultural Health and Safety.
More than 30 out of a planned 50 interactive guidelines have been introduced so far. Upcoming topics include maple syrup production, rototiller operation, greenhouse work, drones and aquaculture/aquaponics. Plans also call for translation into Spanish and French.
Every 3 days in the United States, a youth dies in an agricultural incident.
Since 2001, there has been a steady decline in the number of non-fatal injuries to farm youth. Despite this, every 3 days in the United States, a youth dies in an agricultural incident. For youth younger than 16 working in agriculture, the number of fatal injuries is consistently higher than all other industries combined.
"Too many of these injuries and deaths are associated with youth performing work that does not match their development level/abilities."
Not just a piece of paper…
Built upon the 1999 North American Guidelines for Children's Agricultural Tasks (NAGCAT), the updated Agricultural Youth Work Guidelines are based on the latest scientific research, including child growth and development, agricultural practices, child injury prevention and agricultural safety.
"These guidelines aren't just a piece of paper anymore," said Salzwedel. "The new guidelines can be used in an interactive format, as well as in read-only and print versions. Skin tones can be modified to make them culturally appropriate and equipment colors can be changed to make them more appealing to equipment manufacturers. Information on the benefits of farm work, supervision and child development is also available on the website."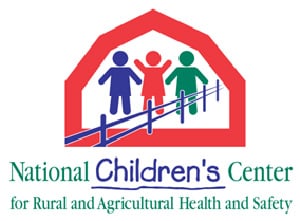 The National Children's Center convened a steering committee to help guide the project. Participating organizations included farm and ranch parents, American Farm Bureau Federation, National FFA, 4-H, the U.S. Department of Agriculture, Agricultural Safety and Health Council of America, Canadian Agricultural Safety Association, National Institute for Occupational Safety and Health, Penn State University, Utah State University, Progressive Agriculture Foundation, COUNTRY Financial, New York Center for Agricultural Medicine and Health, Midwest Organic and Sustainable Education Service, Cullars Farm, Wisconsin Young Farmer and Agriculturalists, and others.
"All incidents are tragic, but ones involving a youth are especially tragic," said Eric Vanasdale, senior loss control representative, at Bloomington, Ill.-based COUNTRY Financial. "I participated in this steering committee because I wanted to make sure clear and easy to use safety materials are available for all farmers and farm workers. I am proud of the materials this group created and look forward to helping create safer working environments on our farms."
---
Funding is provided by CHS Foundation and the National Institute for Occupational Safety and Health.