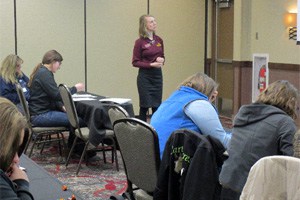 The fourth annual Women in Ag Network conference was held February 13, 2019 in Willmar MN. This conference is sponsored by Extension and is an opportunity to connect with women farmers, educators, bankers, businesses, nonprofits and others for the purpose of supporting women in agriculture.
The conference theme was Weathering the Storm which focused on building skills and resilience in three areas:
Business and Finance;
Stress Management on Farms and;
Organizational Leadership.
Diane Kampa and Carol Peterson attended and represented UMASH with information on Ag Safety Awareness Program Week (ASAP) during March 3 – 9, 2019, as well as taking part in the educational sessions. Our intent was to Shine a Light on Farm Safety and encourage attendees to promote farm safety during ASAP week in any way they could – family safety talk, newsletter insert, social media post etc. Each participant received a flashlight when they signed up to tell us what they did to advocate for farm safety.
---
Signs and Symptoms of Stress
This card helps identity the signs and symptoms of stress, strategies for coping for yourself or someone you know, and regional and national stress and mental health resources.
Cards can be co-branded for local emphasis.
Include relevant links and phone numbers for your region.
Helpful resource for events, conference and farm shows.
Questions?
Contact us: umash@umn.edu
This resource was created by the Upper Midwest Agricultural Safety and Health Center (UMASH). Funding provided through a cooperative agreement from NIOSH/CDC, U54OH010170.