Agricultural Safety Awareness Program (ASAP) Week 2019
SAFETY: Know Your Limits
March 3-9, 2019
#ASAP19 #USAGCenters #KeepFarmsSafe @FarmBureau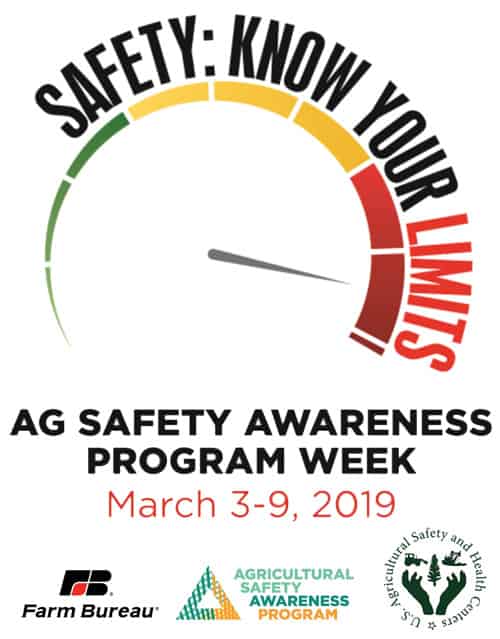 The American Farm Bureau's Agricultural Safety Awareness Program (ASAP), UMASH and the US Agricultural Centers funded by the National Institute for Occupational Safety and Health (NIOSH) are spotlighting agricultural health and safety with a variety of resources for farmers and ranchers, farmworkers, farm families, and others to promote Ag Safety Awareness Program (ASAP) Week.
The 2019 Agricultural Safety Awareness Program (ASAP) Week will be celebrated March 3-9.  The theme for the week will be "SAFETY: Know Your Limits" and will highlight a different safety focus each day of the week.

MONDAY – Emergency Preparedness

TUESDAY – Livestock
WEDNESDAY – Heat Stress and Hydration
THURSDAY – Roadway Safety
FRIDAY – Hearing Safety
Follow us on social media for resources on these and other agricultural health and safety topics, as well as information about webinars during ASAP week.
YOU CAN HELP SPREAD THE WORD ABOUT AG HEALTH AND SAFETY!
It's easy! Using the provided ASAP Social Media Toolkit and other prepared resources, you can participate in ASAP Week!
For example…
In addition to the prepared resources, we encourage you to develop your own promotional ideas! Promote ag safety at your workplace and in your community, reach out to local farm businesses, protect your workers with safety training, host an event, share in media and news.
Make ag safety part of your conversation throughout the week!
---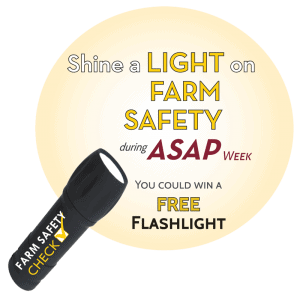 JOIN THE FUN AND PROMOTE ASAP WEEK.
YOU MIGHT WIN A FLASHLIGHT!
Deadline for submissions:
Friday, March 15 @ noon CST
When you share with us how you promoted farm safety during ASAP week, you will be entered into a drawing for a free LED flashlight. Up to 10 submissions will be randomly selected to receive a flashlight.
POST a farm safety tip or fact on social media.
Use HASHTAG: #asapFlashlight
PROMOTE farm safety at events or workplace.
SHARE about ASAP week in a newsletter.
REACH out to farm businesses or co-ops.
PROTECT your workers with training, equipment, or other safety measures.
TELL us what you did.
---
RESOURCES
ASAP Promotional Materials
UMASH Ag Safety Resources
NIOSH Agricultural Safety and Health Centers
The Centers for Agricultural Disease and Injury Research, Education, and Prevention represent a major NIOSH effort to protect the health and safety of agricultural workers and their families. The Centers were established by cooperative agreement to conduct research, education, and prevention projects to address the nation's pressing agricultural health and safety problems. Geographically, the Centers are distributed throughout the nation to be responsive to the agricultural health and safety issues unique to the different regions.
US Ag Centers YouTube Channel
The US Agricultural Centers funded by the National Institute for Occupational Safety and Health offer online safety videos through a special YouTube channel. These safety videos are designed for producers, Extension agents, first responders and farm families. The videos can be especially relevant during harvest season, as farmers are putting in long hours under the stress of weather delays and equipment breakdowns.