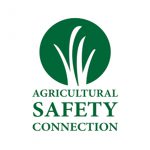 The 6th annual Agricultural Safety Connection Educational Seminar was held January 7, 2020 at Stevens Point, Wisconsin. This event is sponsored by the Center for Dairy Farm Safety at the University of Wisconsin – River Falls and provides attendees with information on current OSHA regulations, topics in safety and health and networking opportunities. UMASH Center director, Jeff Bender was one of the featured breakout speakers where he discussed positive animal handling and the risks associated with zoonotic disease.
Dr. Bender focused his workshop on the research and outreach products within UMASH. These include resources for producers including animal handling guides for dairy and swine operations and addressing biosecurity measures to reduce or eliminate swine influenza. These newly developed resources can be used as training tools for one or a number of workers and highlight the importance of safety and health for the worker and the animal.
These resources are available on the UMASH Animal Handling webpage and can be completed online or downloaded and printed. Stay connected with UMASH for more ag health and safety information by visiting our website and sign up for our newsletter.