SEPTEMBER 2021
It's more important than ever to get the flu shot this year.
Here are 6 reasons why:
---
---
Common misconception:
"The flu shot gives you the flu." This is UNTRUE.
---
---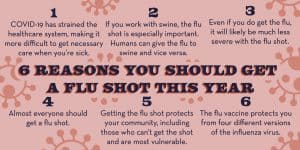 ---
About the Flu Shot
The flu shot doesn't 'kick in' immediately. It takes about two weeks for the antibodies to develop in the body and provide protection against the flu. Because of this, it is recommended to get the flu shot as early as possible.
Can I Get a Flu Shot While Sick? No, those with a moderate-to-severe illness with or without a fever should not get the flu shot. Getting a flu shot when you're not well could prolong your recovery.
Flu vaccination of persons with COVID-19: If you are suspected or confirmed for COVID-19, your health care provider can consider delaying vaccination until you are no longer acutely ill.
What are the similarities and differences between Flu and COVID-19 Signs and Symptoms?
There are some key differences between flu and COVID-19. Look at the table. Learn more here.
I do have a question that's not listed here. What should I do?
The Centers for Disease Control and Prevention (CDC) regularly updates their Influenza-Related Questions page. Please also check with your regional and state agencies for guidance and resources for your area (e.g. Minnesota: MDH)
---
---
Preventing the Flu
These English and Spanish videos address the transmission of flu from humans to pigs and pigs to humans and the necessary precautionary steps to avoid spreading the virus.

ENGLISH: Preventing the Flu
Release Date: June 4, 2019
SPANISH: Prevención De La Diseminacion Del Virus De InfluenzaRelease Date: June 18, 2019