OCTOBER 2022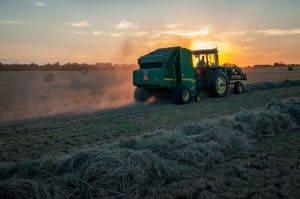 Farmers can experience musculoskeletal disorders, injuries, and pain symptoms, especially in the lower back region, due to the physical demands of their job and limited access to resources in rural areas. This summer, we hosted Justine Bauer, an Occupational Therapy Doctorate Program student at the University of Minnesota, as she completed her capstone project: an "Ergonomic Program for Crop Production Farmers Operating in Rural Communities in the Midwest."
Justine surveyed twenty-three crop farmers and visited two on-site. Her goal was to understand the musculoskeletal issues experienced by Midwestern crop farmers, identify work tasks associated with low back pain, and provide ergonomic recommendations to help protect farmers' backs. Her project found that:
Low back pain was common and problematic among surveyed Midwestern crop farmers. 40% of participants reported trouble in the lower back in the last year, and 68% of those with lower back pain said it prevented them from doing their everyday work.
Certain work tasks were associated with low back pain, including stooping and bending, getting in and out of farming vehicles, twisting, standing, operating farming vehicles, machinery, or equipment, carrying heavy loads, and walking.
Farmers' musculoskeletal pain experiences varied based on personal, environmental, and work factors (e.g., equipment and vehicle types and age). Occupational therapy can be a great venue for understanding and accommodating these individual and unique needs.
Ergonomics
Ergonomics is "an applied science concerned with designing and arranging things people use so that the people and things interact most efficiently and safely" (Merriam-Webster, 2022). Occupational therapists can be an important resource for assisting farmers and farm workers to work in more functional and safe ways.
Based on the findings of her project, Justine developed resources to share practical strategies for protecting the low-back region while farming. We hope you'll use and share them in your work:
---
Other ergonomic resources to explore: