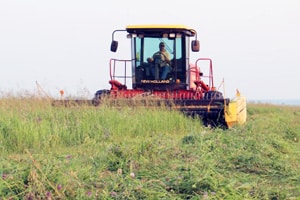 Whole body vibration is happening when doing many farm chores – like operating machinery or riding an ATV. Whole body vibration (WBV) occurs when the shaking motion of a vehicle is transmitted through the body of the operator.
WBV is associated with numerous health effects, including muscle cramping, low back problems, increased heart rate and blood pressure, and disrupted balance and perception.
SAFETY CHECKLIST
Has routine maintenance been performed on machines?
Has routine maintenance been performed on seat suspensions? For example, to avoid "bottoming out" on rough terrain.
Can the seat be adjusted to improve posture?
Are suspension seats adjusted for the operator's body weight according to manufacturer recommendations?
Are operators reducing speed over rough terrain?
 Are operators taking breaks from continuous vehicle operation? Recommended time limits vary, e.g. about 4 hours for ATVs and 12 hours for combines
Are tires properly inflated?
When possible, are operators minimizing forward leaning and twisting when driving?
Are operators avoiding lifting materials immediately after long periods of driving?
You and/or your employee(s) can download and print a pdf checklist to complete safety checks on your farm.  Keep the completed forms for follow-up, future reference and inspections.
DOWNLOAD PDF CHECKLIST
---
Disclaimer: The facts and information provided are suggestions for your safety, but are in no way a comprehensive and exhaustive list of all actions needed to ensure your safety, and are not an endorsement of any products mentioned.
---