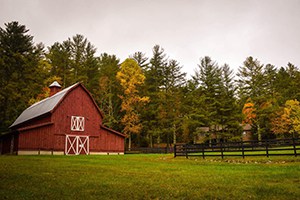 OCTOBER 2020
Following a series of serious farm incidents in Minnesota, AgWeek Journalist Noah Fish connected with UMASH and Extension to garner safety tips. Working together for farm safety and health is a natural fit for UMASH and Extension, and fall is a perfect time to double the effort to remind farmers, families and workers to slow down and be safe. Read on to learn more and take advantage of the resources available from UMASH and Extension to keep this harvest a safe one.
The Upper Midwest Agricultural Safety and Health Center and University of Minnesota Extension offer tips on staying safe on the farm this fall.
---
Fall Safety Tips for the Farm
While farm safety is important year round, fall can be a particularly dangerous time because of the amount and types of work that need to be done. (Jenny Schlecht / Agweek)
With fall comes shorter days and longer hours for a lot of farmers.
Farm safety precautions are something talked a lot about this time of year by staff of the Upper Midwest Agricultural Safety and Health Center based at the University of Minnesota.
"Just because of the amount of equipment out and the increases on roadways going into harvest," said Megan Schossow, outreach coordinator for UMASH.
A key resource that Schossow recommends is UMASH's Farm Safety Check, which are 20+ checklists that farmers can use for certain areas of the farm. Most of them have themes that walk you through certain farm sites with things you should be checking and things to be cognizant of.
"There's quite a bit of research that has shown that running through a checklist — even if it's 30 seconds to a few minutes — prevents adverse outcomes," Schossow said. "It's a pretty straightforward tool, and one we talk a lot about this time of year."
This time of year, a couple checklists that UMASH likes to hammer home are grain handling safety and silage storage.
"There's also a Farm Safety Check that people can customize, and a number of them have resources that are available in Spanish," Schossow said. "We've also updated a number of them to account of COVID-19 precautions."
Krekelberg, extension educator of farm safety and health, said that University of Minnesota Extension released a new Farm Safety & Health channel that includes a three-part livestock safety series, a premiered PTO safety video and a farm safety quick tips video. Additional videos will be added in the coming weeks, said Krekelberg.
"It's not a set webinar you need to join, and you can go and access them when you need them," she said.
Some clips feature testimony from Minnesota farmers who have been affected by farm accidents as well as farms that take extra safety precautions. The videos are all shorter than five minutes, which Krekelberg said makes them great to use in teaching situations.
" We really make sure that everything we're putting out on this channel is accessible and appropriate for all ages, because farm safety is for everyone, " Krekelberg said.
The Farm Safety Quick Tips videos are 30- to 40-second clips that offer quick reminders of farm safety precautions. The PTO safety video is one that Krekelberg is particularly proud of, because it can be useful year-round.
"That one gives a really good example of what can go wrong, and talks through the basics of how to put a guard on a PTO shaft and those different aspects of it," she said.
Krekelberg said she's not sure of specific data that point to what season is the most dangerous for farm work, but she said many on-farm accidents happen in the fall.
"We have already had some pretty tragic accidents in the state this harvest season," she said. "I certainly think that all seasons are dangerous, but fall is particularly dangerous."
Hazards on the farm tend to be heightened in the fall as work hours are longer and farmers are getting less sleep and good meals, said Krekelberg.
She said the publicization of farm accidents has changed in the past few years and it's for the best.
"The fact that the accidents are happening is not good, but it is a good thing that it's out there, and people have an awareness of it," she said.
Not alone
When looking at accidents that have happened this fall and in previous years, Krekelberg said there's a common factor among many of them, that "something happens when a person is alone."
She said there have been multiple fatalities this year of farmers being caught in or crushed by farm equipment who were by themselves.
"I really encourage people that if you do have to be working on farm equipment, make sure you're in a safe setup and well-lit area," Krekelberg said. "If you can have someone else there assisting you, great, and if you can't, I would encourage you to have somebody that checks in with you every 15-20 minutes."
Krekelberg said that sometimes it's just the time that lapses between an accident and when a victim is found that it becomes a fatality.
Schossow said when it comes to grain work, ideally no farmer should work alone. But if they do, she gives the same advice as Krekelberg.
"Working in pairs is smart, but if it's not realistic for everyone, letting folks know what you'll be up to is a good measure to take," she said.
Tractor safety
Tractor rollovers are the most common cause of fatalities on a farm, said Krekelberg.
She said there are several rebate programs that exist to install a ROPS (rollover protective structure), which is usually only necessary for older tractors without a cab or reinforcement that goes over the seat.
"Or just be mindful if you are using an older tractor, is it a narrow front, or a wide front," she said. "And avoid being on slopes or in ditches or that kind of thing."
Taking tractors on the road is also something to think twice about before doing, said Schossow, and farmers should review their slow-moving-vehicle signs, markings and lighting before taking tractors out.
"One of the first things folks learn in defensive driving is that you don't control anyone else's driving, so being seen is really important," said Schossow. "And this time of year especially, as days are getting shorter, so doing everything you can to be seen, and be seen well."
The phrase that Krekelberg has been telling farmers this fall is: "Slow down, think twice and be safe." For Schossow, the euphemism of choice is: "Stop, Think, Act."
"One of the main things we hear when someone has an incident on the farm is 'I was trying to save 10 seconds,' or 'I wasn't thinking,' which is super understandable," Schossow said. "When people are stressed they don't think as clearly or make decisions that they might otherwise, but pausing, especially when you're in some of the more high-risk jobs, is a really simple thing but really important."

---