JANUARY 2021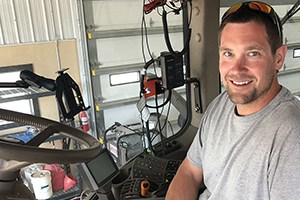 "We wanted to do good with our platform," said Minnesota Millennial Farmer, Zach Johnson, after he and his wife raised $60,000 to prevent grain bin incidents.
The Upper Midwest has been a hotspot for tragic grain and silo incidents in recent years. Several incidents kept the topic top of mind for the farm vlogger. Johnson has recently had two neighbors rescued from a grain bin, spent time at a farm show watching grain incident simulations, and followed the story of a local family that lost two brothers and a son in an incident. Seeing a particular need for equipment and training, the couple decided to use their influence to help prevent these kinds of accidents.
Zach Johnson is known online as the Minnesota Millennial Farmer. He and his wife manage a 6th generation family farm in west-central Minnesota where they also raise their four children. Over five years ago he started a YouTube channel as a way for people to learn about farming in an engaging way. Johnson invites his viewers to "come along with me and watch how I farm."
Half a decade later, the agricultural influencer now has over 700,000 YouTube subscribers and over 550,000 collective follows on his other social media accounts.


---
Grain Bin Rescue
Using their YouTube channel to draw attention to grain bin issues, like entrapment, they started a GoFundMe. With live videos, YouTube content, and the help of partners, they raised over $60,000 that's gone to 51 fire departments in 13 states for rescue equipment and training.
---
Johnson said they're hoping to open the GoFundMe back up, but are also interested in seeing additional prevention work, in addition to equipping first responders with rescue tools. Johnson sums up safety by asking, "How do we prevent departments from needing this equipment?"
See Minnesota Millennial Farmer on Kare11 and take steps on your own farm for prevention and farm safety with the resources provided below.
---