MAY 2023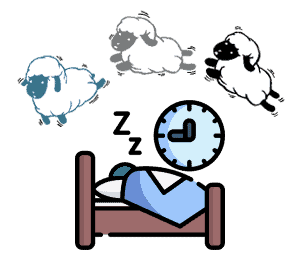 Since there are always so many things to get done on the farm, it can be hard to get healthy sleep. Sleeping too little, too long, or experiencing other sleep problems like struggling to fall asleep or stay asleep can leave farmers feeling exhausted. This can make mistakes or injuries more likely to happen.
Adults who get less than 7.5 hours of sleep per night are over twice as likely to be injured. Operating machinery while drowsy from poor sleep can be very dangerous. Drowsiness can make it harder to pay attention to the road and make safe, quick decisions. Ongoing sleep problems can increase the likelihood of developing health conditions like obesity, diabetes, cardiovascular disease, and mental health symptoms.
To help farmers, farmworkers, and their families get quality sleep, UMASH compiled a toolkit of resources to support sleep hygiene. Consider the following daytime and bedtime tips for healthy sleep.
Get up at the same time every day. Regular wake times can help you fall asleep easier at bedtime. You may already do this to accomplish your farmwork.
Get light. Try to get some sunlight during the day to help regulate your body's internal sleep clock. If you work at night, try to work in a well lit area.
Get exercise. Movement during the day can make sleeping at bedtime easier. If you are moving while doing farm work - that counts!
Stretch your muscles. Tense muscles at bedtime can make it hard to sleep. Try stretching when you take a break during the day.
Eat well. Eat a wide variety of foods and drink lots of water while you are awake. Giving your body the fuel it needs can help make falling asleep and staying asleep easier. Check out our Eat Well to Stay Well checklist for more information.
Avoid caffeine and alcohol. Caffeine can make it harder to fall asleep and alcohol can prevent deep sleep. Avoid caffeine 8 hours before bed and alcohol 4 hours before bed.
Clear your mind. Farming can be stressful. Consider keeping your journal or to-do list beside your bed to write down what's keeping you awake.
Create a bedtime routine. A regular bedtime routine can train your brain to expect sleep. If you can, choose activities that clear your mind, like reading or stretching. Avoid screen time 30 minutes before bedtime.
Avoid bright lights. Shut off some lights in your home as it nears bedtime. If you work at night and sleep during the day, use thick curtains to make your sleeping space darker. This will tell your brain it is time to sleep.
Make your sleeping space as relaxing as possible. For example, a quiet and cool room can help you sleep well.
Looking for more ways to improve your sleep?
Check out these resources to help you start sleeping better.
If your sleep problems continue, see a doctor to get your symptoms checked out.
What's the connection between race & sleep disorders?

People of all races and ethnicities experience sleep problems. However, people of some racial groups experience more sleep problems than others. What causes this difference?
Due to racial discrimination, people of color are more likely to work long or irregular hours, live in neighborhoods with more noise and air pollutants and experience more financial stress.  These added stressors make it more difficult to get healthy sleep.