NOVEMBER 2022
National Rural Health Day is November 17, 2022 – a one-day event focusing attention on the "power of rural." The Upper Midwest is home to agriculture and rural communities in Minnesota, South Dakota, North Dakota, Iowa, and Wisconsin.  Youth are a large part of rural America and National Rural Health Day is an opportunity for young people to showcase the benefits of living and learning in the rural United States.
---
Resources for Ag Educators
To promote National Rural Health Day, UMASH is sharing ideas for engaging students on November 17, 2022, or anytime farm safety and health activities can be used in the classroom. Below is a list of ideas that can be used for all ages – elementary, middle, and high school:
Create a short video on a farm safety and health topic. 
See previous examples and ideas with Dr. Troy McKay at the University of Minnesota. Interested in hosting a competition in your classroom? Contact us!
Look through UMASH educator resources here. Here are two examples:
1) Take a Field Trip
Activity: Walk around your farm and complete a farm safety checklist. 
Outcome: In a paper or presentation, summarize what you did, including the checklist you used. Describe any hazards you identified. How have or will they be fixed or addressed to minimize risk?
2) Complete a Lesson and Take a Quiz
Activity: Watch a video or complete a lesson about agricultural safety and health.  Videos can be found on our YouTube channel.
Outcome: Take a quiz or do a puzzle (e.g., crossword or word search). Then create one yourself. Share the quiz/puzzle with friends or family.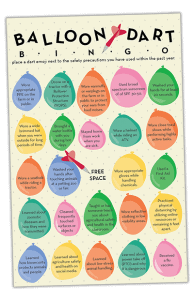 Farm Safety Bingo - Here's a fun activity for students of all ages. What safety practices have you completed in the past year? Can you get five in a row? Share your card on social media, tagging @UMASHcenter!