AUGUST 2022
Once again, UMASH and
MN Farmfest
joined together from August 2 – 4 in Redwood County, MN, to help keep farmers and their families across the Upper Midwest
Living Healthy and Farming Safely
all year long.
Throughout the three-day event, approximately 30,000 attendees
made their way across the showgrounds visiting exhibitors to get the latest on ag products, technologies, and services, including the
UMASH Wellness Pavilion.
This wouldn't have been possible without support from our sponsors,
the Minnesota Department of Agriculture, Minnesota State Southern Agricultural Center of Excellence, Has San Lake Mutual Insurance Company, 40 Square Cooperative Solutions, Minnesota Farm Bureau,
and
 South Dakota Farmers Union
.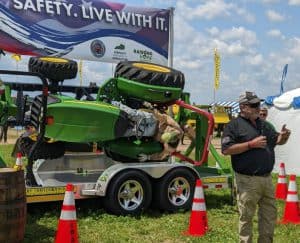 ---
The UMASH Wellness Pavilion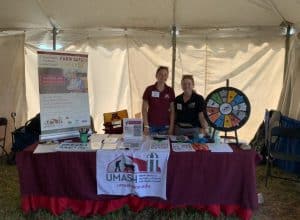 The UMASH Wellness Pavilion served as a one-stop shop for attendees to get up-to-date farm safety and health information with health screenings provided by the Mobile Health Initiative and Roadmap to Health, live safety demonstrations, and farm safety and wellness exhibitors from around the nation. As showgoers entered, they got a chance to visit with over twenty of our agricultural safety and health partners to learn about a variety of farm safety and health topics. Attendees of all ages visited UMASH outreach team members Megan Schossow, Carol Peterson, Justine Bauer, and Cassie Edlund to put their farm safety knowledge to the test, spinning the UMASH Farm Safety Wheel for a chance to win safety giveaways.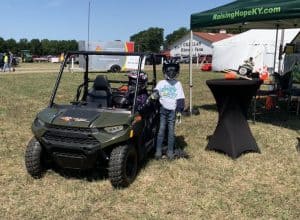 Outside the pavilion featured five live safety demonstrations covering tractor rollover, confined spaces, grain bin, power takeoff, ATV and UTV safety hosted by our partners from the University of Minnesota Extension, Progressive Agriculture Safety Days, Kentucky Department of Agriculture, National Education Center for Agricultural Safety, Southern Agricultural Center of Excellence and the North Mankato Fire Department. Attendees actively learned how they can prevent injuries and take proper precautions when working on the farm.
---
Coming together under one big tent, sponsors, exhibitors, and partners shared key information and resources to keep farmers and their families safe, healthy, and injury free.
Words from our Event Exhibitors:
"We reached people!! That is what we want to do…and we are able to do it here."
"The event as a whole offered a ton of networking opportunities and I was able to meet people who I've only previously met online."
"Overall, I think it was a great event and plan on being back next year."
---
RESOURCES