Biosecurity is a set of practices used to prevent the diseases and the pathogens that carry them – viruses, bacteria, funguses, parasites and other microorganisms – away from animals, property, and people.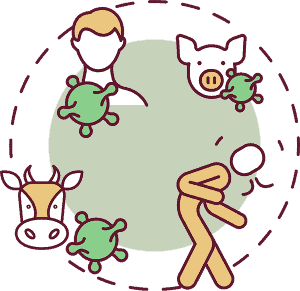 Livestock farms should practice biosecurity every day.
By practicing good biosecurity, you can reduce the risk of infectious diseases being carried onto your property by people, animals, equipment, or vehicles. You will also help protect other farms and animals by preventing the spread of disease.
Can COVID-19 infect my herd, flock, or pets?
According to the CDC, humans seem more likely to give COVID-19 to animals than vice versa. A limited number of animals in the United States have been infected with COVID-19.
https://www.aphis.usda.gov/animal_health/one_health/downloads/sars-cov2-in-animals.pdf
If you are sick, restrict contact with pets just as you would around other people. It is suggested that people with COVID-19 limit contact around all animals until more information is known about the virus and the susceptibility of various animals to the virus.
At this time, it appears that livestock or poultry are unlikely to get SARS-CoV-2 infection nor transmit the virus to humans.
COVID-19 in animals that have been confirmed by USDA's National Veterinary Services Laboratories.
UMASH has developed various educational resources in order to address biosecurity measures:
VIDEOS
6 Tips for Biosecurity – A Guide for Youth Livestock Exhibitors
Release Date: April 9, 2019
This video is intended for youth exhibiting animals at county fairs or similar animal venues.

Keep Food Safe – 4H Food Stand Worker Training
Release Date: February 18, 2019
Keeping the public safe from food-borne illness is important when working at a 4-H food stand, county fair or other similar venue. This video covers the basics of food safety when preparing and serving food to the public.

---