Agricultural Safety Awareness Program (ASAP) Week 2018
REMEMBER:
No One Can Take Your Place
March 4-10, 2018
#ASAP18 #USAGCenters #KeepFarmsSafe @FarmBureau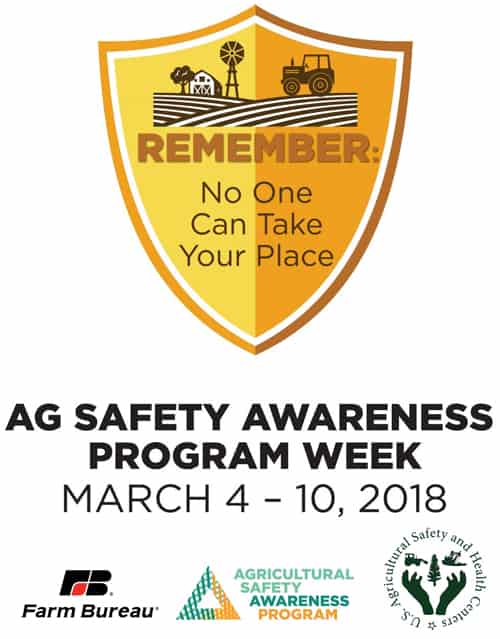 The American Farm Bureau's Agricultural Safety Awareness Program (ASAP), UMASH and the US Agricultural Centers funded by the National Institute for Occupational Safety and Health (NIOSH) are spotlighting agricultural health and safety with a variety of resources for farmers and ranchers, farmworkers, farm families, and others to promote Ag Safety Awareness Program (ASAP) Week.
The 2018 Agricultural Safety Awareness Program (ASAP) Week will be celebrated March 4-10.  The theme for the week will be "REMEMBER: No One Can Take Your Place" and will highlight a different safety focus each day of the week.
MONDAY – Hearing

TUESDAY – Respiratory
WEDNESDAY – Distracted and Impaired Driving
THURSDAY – Fire
FRIDAY – General Health
Follow us on social media for resources on these and other agricultural health and safety topics, as well as information about webinars during ASAP week.
RESOURCES
ASAP Promotional Materials
UMASH Ag Safety Resources
UMASH Ag Safety and Health Spotlight
UMASH Ag Safety and Health: Stories from the Field highlights the stories of farmers and farm families – their experiences with injury or disease on the farm, as well as what they learned and suggestions for prevention.
NIOSH Agricultural Safety and Health Centers
The Centers for Agricultural Disease and Injury Research, Education, and Prevention represent a major NIOSH effort to protect the health and safety of agricultural workers and their families. The Centers were established by cooperative agreement to conduct research, education, and prevention projects to address the nation's pressing agricultural health and safety problems. Geographically, the Centers are distributed throughout the nation to be responsive to the agricultural health and safety issues unique to the different regions.
US Ag Centers YouTube Channel
The US Agricultural Centers funded by the National Institute for Occupational Safety and Health offer online safety videos through a special YouTube channel. These safety videos are designed for producers, Extension agents, first responders and farm families. The videos can be especially relevant during harvest season, as farmers are putting in long hours under the stress of weather delays and equipment breakdowns.
---
Monday, March 5
3:30pm ET
Presenter:
Jenna Gibbs, MPH, PhD
Research Coordinator, Great Plains Center
University of Iowa Public Health
Although 44% of Midwestern farmers reported noise-induced hearing loss (NIHL) symptoms, less than one third report using hearing protection devices (HPDs) when working around loud noises. Dr. Gibbs will discuss current research on farmers' priorities and preferences for HPD types, as well as the impact of hearing conservation activities.
Friday, March 9
12:00pm ET
Presenter:
Ted Matthews
Director of Mental Health Outreach
Minnesota Department of Agriculture
Most people focus on what they can do to help others in their work, and tend to forget how to take care of themselves. Ted will focus on this topic, and a few general mental health topics.
---
RECORDED WEBINARS FROM AGRISAFE NETWORK

AgriSafe is sharing OnDemand webinars in recognition of each daily theme during Ag Safety Awareness Week
These OnDemand Webinars are free and open to the public through March 10, 2018.
MONDAY, MARCH 5
Increasing the Use of Hearing Protection Among Farmers


Marjorie McCullagh, PhD, RN
University of Michigan School of Nursing

TUESDAY, MARCH 6
Understanding Agricultural Respiratory Hazards with Emphasis on Respirator Selection as a Prevention Strategy

Charlotte Halverson, RN, BSN, COHN-S
Clinical Director, AgriSafe Network

WEDNESDAY, MARCH 7
Rural Roadway Safety

Brian Hammer
Nationwide Insurance

THURSDAY, MARCH 8
Prevention of Dust Fires and Explosions

Dan Neenan, BS, MBA, Parmedic
Director, National Education Center for Agricultural Safety

FRIDAY, MARCH 9
This is Our Brain on Stress

John Shutske, PhD
Professor and Extension Specialist
UW-Madison – College of Ag & Life Sciences, Biological Systems Engineering Department