JANUARY 2018
---
In the busy life of farming, it is important to reach farmers where they are with relevant safety information to protect themselves, their families and their workers. The eleven U.S. Agricultural Centers have collaborated to provide this information via YouTube.
The US Ag Centers' YouTube channel offers the quickest way to deliver various resources direct to the farmer and the farm operation.
---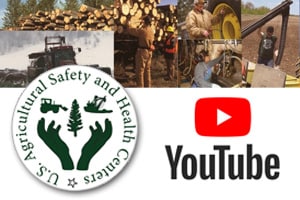 Injuries are preventable. Videos are one way to support the agricultural community with training and educational resources to help bring the injury and death rates down. As of January 3, 2018, the US Ag Centers' YouTube channel has posted 108 videos with nearly 145,000 views. The videos have reached all 50 states and the District of Columbia as well as 190 countries (or geographic regions) around the world.
UMASH has contributed 20 videos to this channel on needlestick prevention, low stress animal handling and safe agritourism – which addresses the growing trend of inviting guests to your farm. Additional topics on the channel include: grain bin safety, ATV safety, tractor rollover protection, roadway safety, heat related illness prevention, and others, including with many in English and Spanish.
These videos are free and available for non-commercial use by producers, extension educators, agricultural educators, safety specialists and others responsible for worker health and safety training and education. The videos can be incorporated into new or existing education and training initiatives, such as safety presentations, new hire orientations, safety refreshers, beginning farmer and rancher programs, and other required safety training.
Please contact umash@umn.edu if you have questions about using these videos in your training program.