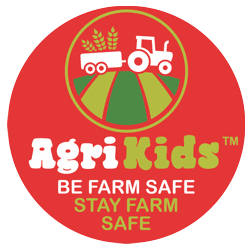 OCTOBER 2019
At UMASH, we value the power of connections. At Minnesota Farmfest, a conversation led to an introduction with Alma Jordan, founder of AgriKids.
Continue reading to learn about the Irish foundation and the story behind its beginning.
---
Alma Jordan is a visionary and a doer. Having grown up on a farm south of Dublin, Ireland, she recalls her family's own farm incidents. "One memory I have as a child is coming home from school to see our kitchen floor and table covered in blood and no sign of our parents. A message from our workman in the yard was that our father had been kicked in the face by a colt foal," she says.
Although her father recovered, this and other "near misses" stayed with Jordan. In 2014, a record-breaking year for fatal agricultural injuries in Ireland, Jordan learned of the deaths of two young children from farming-related incidents. "Some personal action was needed if there was to be any hope of keeping my family off a farm incident report," says Jordan, a farmer and mother herself.
---
Thus began AgriKids, a foundation begun by Jordan that is dedicated to agricultural safety and health among children.
 "My ethos with AgriKids is to engage, educate and empower children to be our farm safety ambassadors" -Alma Jordan
She believes that through children, community-level change can occur. "Personally I am so proud when I meet parents and teachers who have actively used AgriKids in their homes and classrooms and hearing that the farm safety discussion is taking place around the dinner table." she says.
---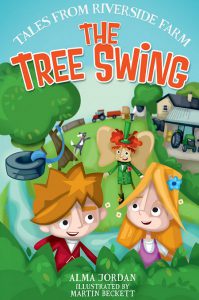 Jordan began AgriKids with
The Tree Swing
, a captivating children's book about Mr. Brambles, a hedge sprite who promises to keep two young children safe on the farm.
The Tree Swing
is now part of the series
Tales from Riverside Farm
. In each book, Jordan engages children while teaching them important lessons about a specific topic related to agricultural safety and health.
After the publication of Tales from Riverside Farm, a librarian asked Jordan to lead a workshop focused on agricultural safety for children. Since then, Jordan has reached over 25,000 students through her engaging and interactive workshops. "I have done events in schools where the school hall has been named in memory of a deceased pupil, lost to a farming fatality," Jordan says, noting the importance of her work.
---
AgriKids now has a website, which includes online games and resources for parents and educators. Next steps include working with organizations to create a lasting farm safety and health program in Irish schools. "The demand is certainly there," says Jordan.
Parents, educators, farmers, and organizations can adapt AgriKids' online games, safety tips, and Tales from Riverside Farm books to promote agricultural safety among people of various ages. With agritourism in full swing, such materials are timely and important.
"I look forward to seeing how my AgriKids of today become our safer farmers of tomorrow," explains Jordan.
We couldn't have said it any better.
---
2019 Social Entrepreneur Ireland (SEI) Award Winner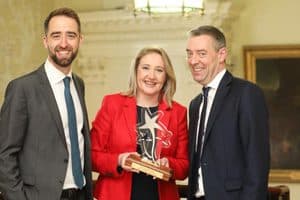 "I am absolutely delighted to be among this year's winners. Being part of the SEI Awards programme 2019 gives credibility to the mission I've been on with AgriKids for the past four years. I am so passionate and committed to making the agriculture sector safer and the impact this will have. SEI's support is invaluable not only to me personally and to AgriKids as an organisation but to ensuring a safer future on our farms for everyone."
---
For more information on AgriKids',
visit the website or email the foundation:
---