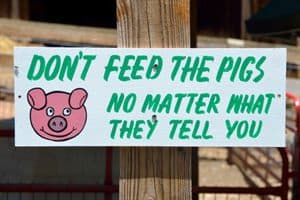 The Minnesota FFA convention was held April  28 – 30, 2019 on the University of Minnesota campus.  This April event brings over 4000 students and a sea blue coats to the Minneapolis and St. Paul campuses.  The convention is a time for state-wide meetings and for student education on various topics to enhance their experience with FFA and agriculture education.
On April 30th,  Melissa Ploeckelman from the National Farm Medicine Center represented UMASH to teach about Zoonotic diseases and how as students they can protect themselves and others.  As a former agriculture teacher and FFA advisor, this was a perfect event for Melissa to connect with students and bring out the inner teacher – demonstrating  how this contagious disease can spread quickly through a population.
Melissa's workshops reached 100 FFA students with an interactive exercise that demonstrated how zoonotic disease can quickly spread.   The students were given cups of water (of which two were contaminated) and told to pour some of their water in one anothers' cups – to simulate shaking hands.  Over ¾ of the students' water changed to bright pink representing the spread of germs. This exercise reinforces the importance of biosecurity and handwashing in disease prevention.
Many FFA students and other youth exhibit livestock at county fairs and similar events.  Melissa shared a new video resource titled "6 Tips for Biosecurity – A Guide for Youth Livestock Exhibitors"  which was produced by a partnership between UMASH, Extension 4H and the Minnesota Department of Health.  Melissa engaged the students to think about what they are already doing to prevent disease transmission and how they can teach others how to keep themselves safe from zoonotic disease.