UMASH staff traveled to Saint Cloud on January 9-10 for the 2020 Minnesota Organics Conference hosted by the Minnesota Department of Agriculture.
Each year, the MDA hosts this conference and trade show for farmers and others interested in organic agriculture for two days of networking, learning, and great food.
---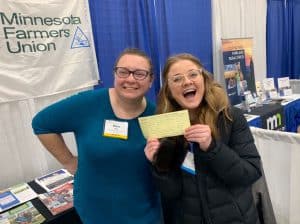 Megan Schossow spent the time as an exhibitor, with an emphasis on agritourism resources (especially handwashing), stress, and Farm Safety Check. During the final day of the conference, Carrie Klumb, Minnesota Department of Health epidemiologist presented "Stay Out of Court: Agritourism Health and Safety" along with North Star Farm Tour.