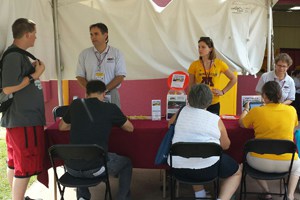 UMASH researchers were a part of the new Driven to Discover research building activities during the 12 days of the Minnesota State Fair. Being at the Fair gave UMASH access to a large pool of volunteer participants for their study "What's Behind Your Food?"
The goal of the survey was to determine if participants were aware of the people behind the scenes that provide the groceries they eat every day. Questions led the survey takers to think about just how dangerous farm work can be and how lost work time can result in community wide impacts.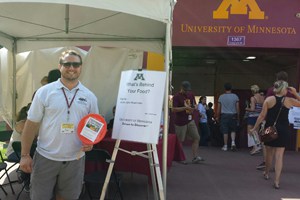 During 12 hours over two days, the study engaged around 250 persons to take the 8 minute survey which asked questions such as what factors were important to them when they purchase food and what was their level of awareness of injury and illness rates for farmers and agricultural industry workers.
Many participants said the answers, provided interactively on the iPad survey mechanism, didn't surprise them but caused them to rethink their perspective on the topic. Participants were left with the knowledge that UMASH is working with agriculture to improve the health and safety of the people behind their food.