JUNE 2019
And the survey said…More safety resources please!
UMASH partners with many organizations who care about the health and safety of farmers. This includes the next generation of farmers, and the young men and women who are planning to farm or work in the agriculture industry. To ensure that the next generation of agriculturists are informed about agricultural safety, UMASH is working with the University of Minnesota Agricultural Education department to take a closer look at what resources are needed to assist teachers in this effort.
Assistant Professor, Amy Smith, and Agricultural Education student, Ethan Dado, surveyed teachers in Region III of National Association of Agricultural Educators (NAAE) to determine the extent to which farm safety is taught in the school-based agriculture classroom. Overall, responding teachers suggested that farm safety is not taught to the level it should be and are eager for additional, easy to implement, curricular resources (Smith and Dado, 2018).
Ninety-six percent of participating school-based agriculture teachers found animal safety either moderately, very, or extremely important to teach in the classroom.
(Smith and Dado, 2018).
Of particular interest to UMASH is the topic of animal handling.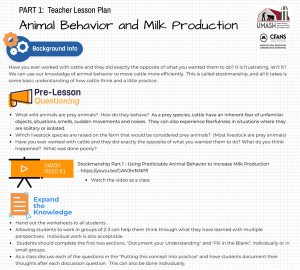 Safe animal handling is not often taught as the survey identified a lack of resources on the subject. With this information, Smith and Dado, with assistance from Natasha Mortenson of Riverview LLP, created lesson plans to complement the UMASH Dairy Stockmanship videos. A lesson resource to match each video is now ready for classroom use; these will help fill a void on an important safety topic in agriculture.
UMASH is cooperating with others including FFA, Safety in Agriculture for Youth (SAY), the Minnesota Association of Agricultural Educators and the National Farm Medicine Center to provide additional resources for teachers that meet educational requirements. Such collaboration will help keep safety at the forefront for all current and future farmers.
"These are awesome resources. Could you point me in their direction so I can implement them into my animal science course?"
---