FEBRUARY 2018
Media Guidelines fact sheet covers text, graphic elements

Scott Heiberger
Health Communications Manager, National Farm Medicine Center
Carol Peterson
Outreach Coordinator, Upper Midwest Agricultural Safety and Health Center (UMASH)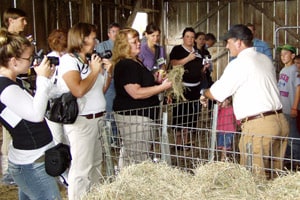 The media play an important role in reinforcing safety in agriculture and in rural life across the United States. What we write, say and show as images need to characterize safe agricultural practices. While not intentional, unsafe practices can find a way into the mainstream and social media as well as advertising.
By keeping a safe eye on what we produce and publish, we all take a step forward to safety and health in the agriculture community.
---
Here are a few tips you can use TODAY to keep a Safe Eye on your communications.
peruse your website and replace images that do not demonstrate safe work practices
be mindful about the words and images you choose for stories and social media
when reporting on agricultural injuries, try to include relevant prevention messages and/or resources
share the Media Guidelines for Agricultural Safety with others in your organization
Contact us for additional information on agricultural safety and health at umash@umn.edu or visit our website at umash.umn.edu
---
Ag Safety Awareness
Each year, the Upper Midwest Agricultural Safety and Health Center (UMASH) and our U.S. Agricultural Safety and Health Center colleagues across the country partner with other organizations to raise awareness about occupational risks associated with farming and offer safety resources and solutions to minimize or eliminate these risks.  Please join us in raising awareness about ag safety!