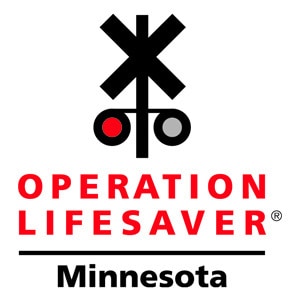 JULY 2019
The phrase, "in a split second" is used frequently to describe all types of situations that happen quickly and without time to react, many of which can be life threatening events.  
When it comes to trains and tracks, Operation Lifesaver knows all about split seconds and wants you to be safe. Operation Lifesaver is a non-profit organization which focuses on rail safety and has a wealth of information to keep you safe and alive around trains and tracks, including basic tips on how to cross the tracks safely.
Read more below and visit Operation Lifesaver at Farmfest 2019 in the Farm Bureau Financial Services Wellness and Safety Pavilion.
---
Nearly 4 out of every 10 collisions between trains and vehicles in Minnesota involved tractor-trailer combos, large trucks, or farm and other agricultural equipment. Overall, crossing incidents nationally have decreased across the U.S. from a high of about 12,000 in 1972 to 2,205 crashes in 2018.
In the Interest of Safety
Nonprofit Minnesota Operation Lifesaver is coming to 2019 Farmfest to share the knowledge YOU need to make safer decisions around tracks and trains. Recent high-profile grade crossing collisions in the Midwest and across the country highlight the need for drivers of all types of large equipment and vehicles to use caution at every highway-rail grade crossing. Operation Lifesaver, Inc. is a national nonprofit rail safety education group that partners with railways and other safety groups to provide free safety presentations for motorists and pedestrians throughout the U.S. You can visit them in the new Farm Bureau Financial Services Wellness and Safety Pavilion.
In addition to participating in this year's Farmfest. Operation Lifesaver offers free materials, lesson plans, videos, and in-person facilitators for your classrooms, driver's ed classes, community groups and businesses. We also offer training and volunteer opportunities for anyone interested in making a difference in their community and helping to further share our safety messages with the people who matter to you. 
mnoperationlifesaver@gmail.com
---

NEWS CLIPPINGS FROM TRAIN INCIDENTS
Read about the latest incidents involving trains around the Midwest. Links to the full articles are embedded in the PDF.

MINNESOTA OPERATION LIFESAVER FACT SHEET
Educate yourself and others about national statistics and train safety precautions.
---
With such a significant number of collisions in Minnesota involving trucks and equipment that are important to those working in the agricultural sector of our state, we need to ensure that everyone has the safety information they need to return home safely each day.
---
---
The goal of our national campaign is to make caution an automatic habit every time you approach a railroad crossing — much like the habit of fastening your seat belt every time you get into a vehicle.
---
About Minnesota Operation Lifesaver, Inc. 
Operation Lifesaver's mission is to end collisions, deaths and injuries at highway-rail grade crossings and along railroad rights of way. They provide support to organizations in all 50 states and help to recruit and coordinate a national network of trained volunteers who provide free presentations on rail safety.
 Join the MOL network!
Sheryl Cummings,

Executive Director Minnesota Operation Lifesaver, Inc

651-328-3259

mnoperationlifesaver@gmail.com

P.O. Box 22254

Minneapolis, MN 55422