Busy life seasons seem to always be around us, or right around the corner, especially in agriculture.
UMASH sat down with Melissa Jaeger, RD, LD, a Corporate Hy-Vee Registered Dietitian, to get professional tips for establishing and maintaining healthy habits during these busy seasons.  She shared recommendations for making healthy grocery choices, hydration, caffeine, and various apps and resources for nutrition planning to support a safe and healthy season on the farm.
Looking for more? 
We have compiled these additional resources to help you develop Healthy Habits to keep your body strong and healthy while working on the farm.
Interview with Melissa Jaeger, RD, LD, Registered Dietitian
Conducted by Megan Schossow, UMASH Outreach Director and Center Coordinator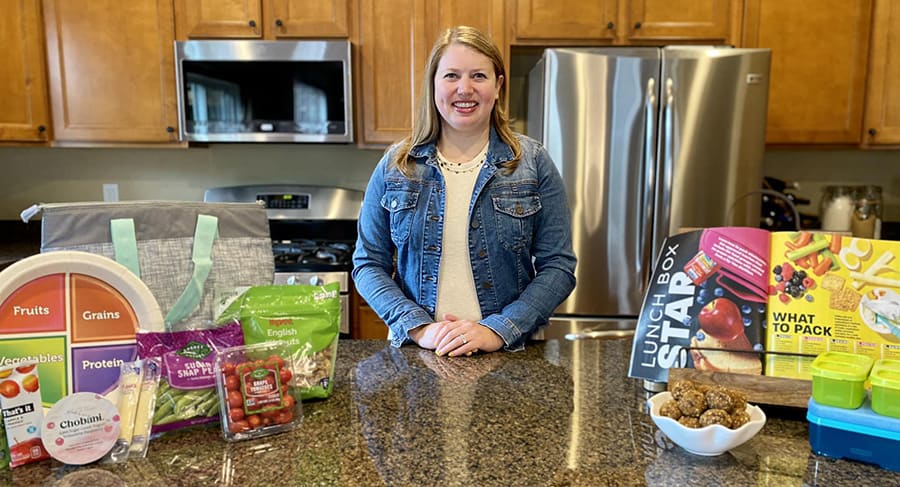 Q: What would make it to your shopping list going into a really busy, potentially stressful season of life?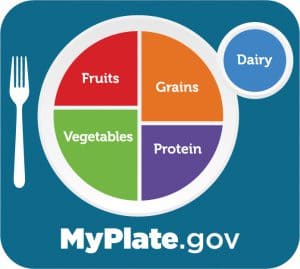 Balance is key but takes planning and commitment to achieve! As a Hy-Vee dietitian, I like to focus on MyPlate. MyPlate replaced the food pyramid in 2011 with the introduction of the 2010 Dietary Guidelines for Americans. MyPlate is broken down into an easy visual aid to give us an idea of what our plate should look like at mealtime to obtain balanced nutrition. For example, fruits and vegetables should fill up half of our plate with the remaining half split between protein and grains. There is an emphasis on making half of our grains whole grains, choosing lean sources of protein, and varying our fruits and vegetables to maximize our vitamin and mineral intake each day. If we focus on creating balance with our diet each day, this will help us combat any stress or fatigue in our daily life.
If you are looking for specific guidance regarding any health diagnoses or are just interested in learning how to balance your everyday diet, take advantage of our FREE On Demand Virtual Nutrition Store Tours. They are an excellent educational addition to our Hy-Vee Healthy Habits program and are great for individuals managing new conditions or those just looking to amplify the health of their shopping basket.  We offer tours on: Navigating Nutrition, Weight Management, Diabetes, Heart Health, Plant-Based Eating, Gluten-Free, Eating Better on a Budget, Kidney Health, Fueling Your Fertility, Prenatal + Postpartum, Top 8 Food Allergies, and Food & Fitness. Tours are approximately 30 – 45 minutes, and always complimentary.
---
Q: Are there tools/apps that you like (habit, nutrition, wellness related)?
Healthie – our virtual nutrition services platform is a free app you can download on any smart device. You can use the chat feature to easily communicate with your Hy-Vee dietitian, directly schedule and join appointment calls, and sync your fitness tracker or food journal – all using the app. Get started by creating your Healthie profile today
You can also learn more about our health and wellness programming at Hy-Vee by visiting:
---
Q: Hydration is important and unique during busy farm seasons, where folks may spend a lot of time inside equipment, work long hours, and be away from home. Do you have recommendations around hydration and caffeine use/consumption? What do you think of incorporating electrolyte products?
We all know prioritizing eating a more balanced diet will help improve our health. But where does hydration fall on your priority list? Hydration is important to focus on throughout the day and not only around periods of activity. A basic calculation to determine the minimum amount of fluid ounces you should be drinking per day is to take your body weight in pounds and divide by 2. The answer is your personal minimum number of fluid ounces per day to consume. However, those performing strenuous activity and those who sweat more and/or are working outside should plan to consume more than their minimum number of fluid ounces per day.
When we sweat, we lose valuable electrolytes such as sodium, potassium, chloride and small amounts of magnesium and calcium. These electrolytes are responsible for multiple critical bodily functions. It is important to replenish electrolytes to avoid symptoms of dehydration. Keep in mind that fruits and vegetables naturally contain some water and electrolytes! Those that are particularly high in fluid content include: watermelon, strawberries, cucumbers, bell peppers, tomatoes and many more! You can also find water in dairy products such as milk and yogurt. Prior to consuming an electrolyte replenishment beverage, take a look at the nutrition facts label and keep in mind that you want the beverage to replace electrolytes lost via sweat to help your body rehydrate more effectively. While some sugar is OK in electrolyte beverages to replenish muscle glycogen stores after strenuous activity, we want to avoid those with excessive added sugar, as it is not necessary for everyday activity.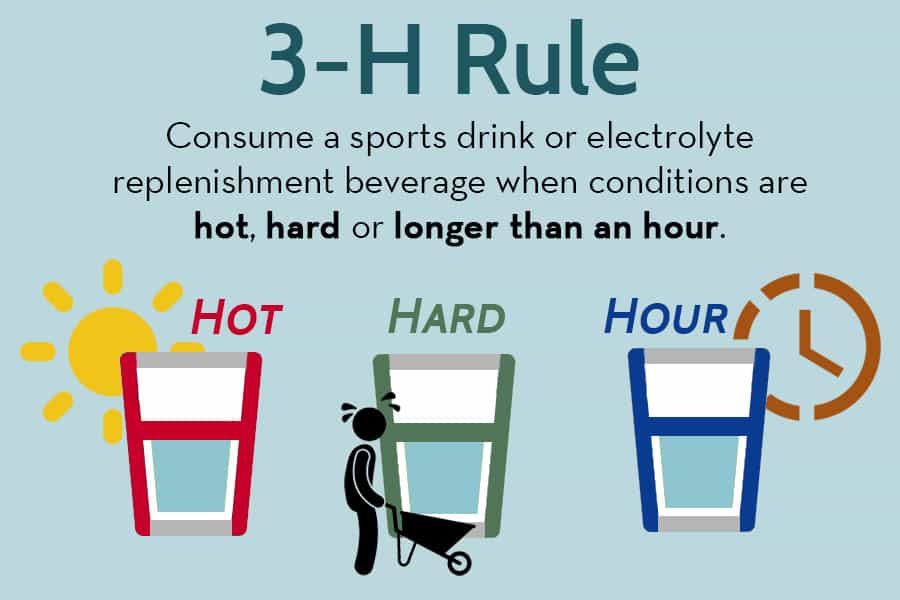 A general rule of thumb is to consume a sports drink or electrolyte replenishment beverage when:
Drink when it is hot (increased sweat production).
Drink when it is hard (intense exercise).
Drink when your workout is longer than an hour (endurance-based training).
If you are currently diagnosed with heart failure and have a fluid restriction as prescribed by your physician, it is important to consult with a registered dietitian to determine the best way to meet your fluid guidelines each day while managing your health condition.
Caffeine recommendations should be made on an individual basis. Those managing heart conditions, including high blood pressure, should consult with their physician and registered dietitian before consuming caffeinated beverages. The FDA has found that 400mg/day (roughly 4 to 5 cups of coffee) is generally considered safe for healthy adults. However, individuals vary in their sensitivity and response to caffeine, making it important to monitor your body's response when consuming any caffeinated product.
Looking for more information on hydration?
Check out Melissa's segment on all things hydration that aired on Minnesota Live:
---
Q: What could someone expect from establishing a relationship with a Hy-Vee dietitian?
A team of Hy-Vee registered dietitians is here to help make your life easier, healthier and happier. We want to help you meet your health and wellness goals, whether it be managing your diabetes diagnosis or preparing dietitian-approved freezer-ready family meals. We are ready to support you as you navigate lifestyle changes and answer any questions you have along the way.
To get started with a Hy-Vee dietitian today and learn about our available nutrition services visit:
OR, dive right in by scheduling your complimentary Discovery Session. By scheduling this FREE session, you will meet your Hy-Vee registered dietitian and learn about the services offered and what package is the perfect fit for you to start your wellness journey.
---
The information in this spotlight story is for general informational purposes. It is not meant to provide endorsement of any company or professional medical advice.