AUGUST 2019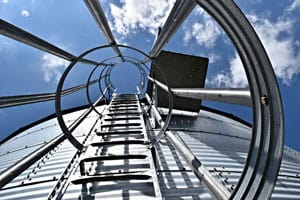 Travel around the Upper Midwest and you'll see that the landscape is dotted with grain bins in all shapes and sizes. These structures house soybeans, corn and other grains grown in the region and are a central part to crop farming.
Grain bins can be a dangerous presence on farms with respect to deadly asphyxiation and entrapment.
The National Education Center of Agricultural Safety (NECAS), and Nationwide/Corteva Agrisocience have teamed up to promote programs which provide rescue training and rescue tubes for local fire departments who are typically the first to respond to these life threatening situations.
Read on to learn more about the dangers of grain bins and how NECAS and Nationwide/Corteva Agriscience are making a difference in farmer's lives.
---
According to Purdue University, an average of 30.7 people per year die in grain bin asphyxiation and entrapment accidents nationally, based on 10-year averages. In 2017, 52% of entrapments were fatal.
---
Having the proper rescue tools and training is essential for first respondents rushing to save someone trapped in grain. The National Education Center for Agricultural Safety (NECAS), located in Peosta, IA, is proud to partner with Nationwide and Corteva Agriscience to deliver a total of 55 grain rescue tubes and hands-on grain rescue training in 23 states this summer and fall. NECAS is a leader in agricultural safety and rescue education; its grain rescue training has resulted in 19 lives saved nationally.
"Nationwide Insurance is proud to partner with NECAS on our mission to raise awareness about grain bin dangers, provide education and share best safety practices. To date, through our Nominate Your Fire Department Contest, we have received nearly 3,000 nominations and have awarded grain rescue tubes and hands-on training to 111 fire departments across 26 states since starting the program in 2014. Most notably, four of these awarded rescue tubes have saved lives."
---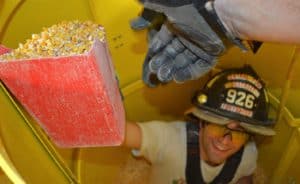 In 2014 Nationwide created the Nominate Your Fire Department Contest, in conjunction with Grain Bin Safety Week, an advocacy program to educate those entering grain bins to implement safe entry procedures and address the lack of specialized resources available to rural fire departments responding to bin entrapments.
This year's campaign awards grain rescue tubes and training to 34 fire departments across 17 states.
"As a volunteer firefighter who works with farmers every day, I'm here to ensure my customers and neighbors get home to their families."

"The donation of 21 grain rescue tubes from Corteva Agriscience and training from NECAS can be the difference between someone making it home or not."
---
---
The National Education Center of Agricultural Safety (NECAS) offers a variety of agricultural safety and rescue trainings. LEARN MORE