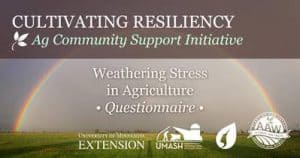 APRIL 2021
Women in agriculture are encouraged to take the Weathering Stress in Agriculture 2021 Questionnaire, an anonymous online survey created by UMASH, the University of Minnesota Extension-Women in Ag Network, American Agri-Women (AAW), and Minnesota Agri-Women District 11. All input and responses will build on knowledge from past surveys and help inform the direction of the online Cultivating Resiliency series as well as the continual creation and dissemination of resources specifically designed for the benefit and support of women in ag.
The more responses and data that are collected, the more resources can be tailored to help those most in need of them. The survey should require no more than 10 minutes to complete and any woman in ag over the age of 18 is welcome to participate! Feel free to share to anyone and everyone that can contribute to this data collection.
The questionnaire will close on April 30, 2021.
CLICK HERE TO TAKE  THE SURVEY