JULY 2019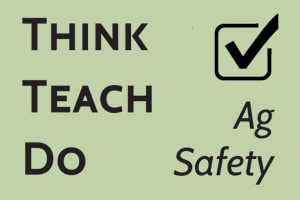 Think… Teach… Do… Ag Safety
Agriculture ranks among the most hazardous industries, according to the National Institute for Occupational Safety and Health.
Farmers are at very high risk for fatal and nonfatal injuries; and farming is one of the few industries in which family members (who often share the work and live on the premises) are also at risk for fatal and nonfatal injuries.

Every day about 33 children are injured in an agriculture related incident.
– National Children's Center for Rural and Agricultural Health and Safety
Agriculture teachers play a vital role in educating the agricultural workforce of tomorrow.
Incorporating occupational safety and health topics into the classroom can keep the new generation of farmers, farm families, and farm workers safer and healthier. Whether you are in an urban or rural setting, understanding the risks that are associated with farming and careers in agriculture are an important part in the education of students prospective occupations.
To help teachers build more agricultural safety and health into their classroom lessons, UMASH has pulled together a variety of health and safety resources that can be used for lesson planning or student projects. Included are lesson plans, awareness events, educational resources developed by agricultural health and safety experts on a variety of topics, and ideas for easy ways to integrate agricultural health and safety topics in a teacher friendly format. A planning template is also available to help educators map out a plan for the coming school year.
For example, if students are taking an animal science class because of an interest in veterinary science, a section of the class devoted to Needlestick Prevention and Zoonotic Diseases may be an easy, yet very relevant, addition to curriculum already in place. This is only one example. Many other resources and ideas for incorporating agricultural safety and health can be found on our website.
For more information:
---
National Children's Center for Rural Agricultural Health and Safety
For additional information on children's safety and health of the farm and youth work guidelines visit:
---
This resource is a collaborative effort between UMASH, the SAY Clearinghouse, and the National Children's Center for Agricultural Safety and Health (NCCRAHS).